Events
September 3, 2016
Alex Lamis Talks About Libraries on WCFO Atlanta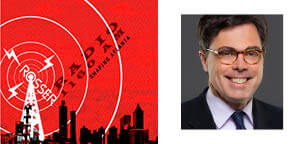 Alexander P. Lamis
, Partner at Robert A.M. Stern Architects, will participate in the radio broadcast "Library Systems Shaping Atlanta" this morning at 9:00 am (Eastern Daylight). Also speaking on the show will be Dr. Gabriel Morley, Director of the Atlanta-Fulton County Public Library System; Richard L. Waters and Brad Waters of Godfrey's Associates; and Mark Valenti, President and CEO of The Sextant Group. Rosser's Michael Kahn will host the segment, which is part of his 13-week Rosser Radio series "Shaping Atlanta," which features interviews with leaders of those groups which are contributing to, and benefiting from, the energy of today's Atlanta:
click here
for more information.
Listeners will be able to hear the conversation on line after its initial airing
here
.