Events
December 7, 2018
ICAA Leads Tour of the Belnord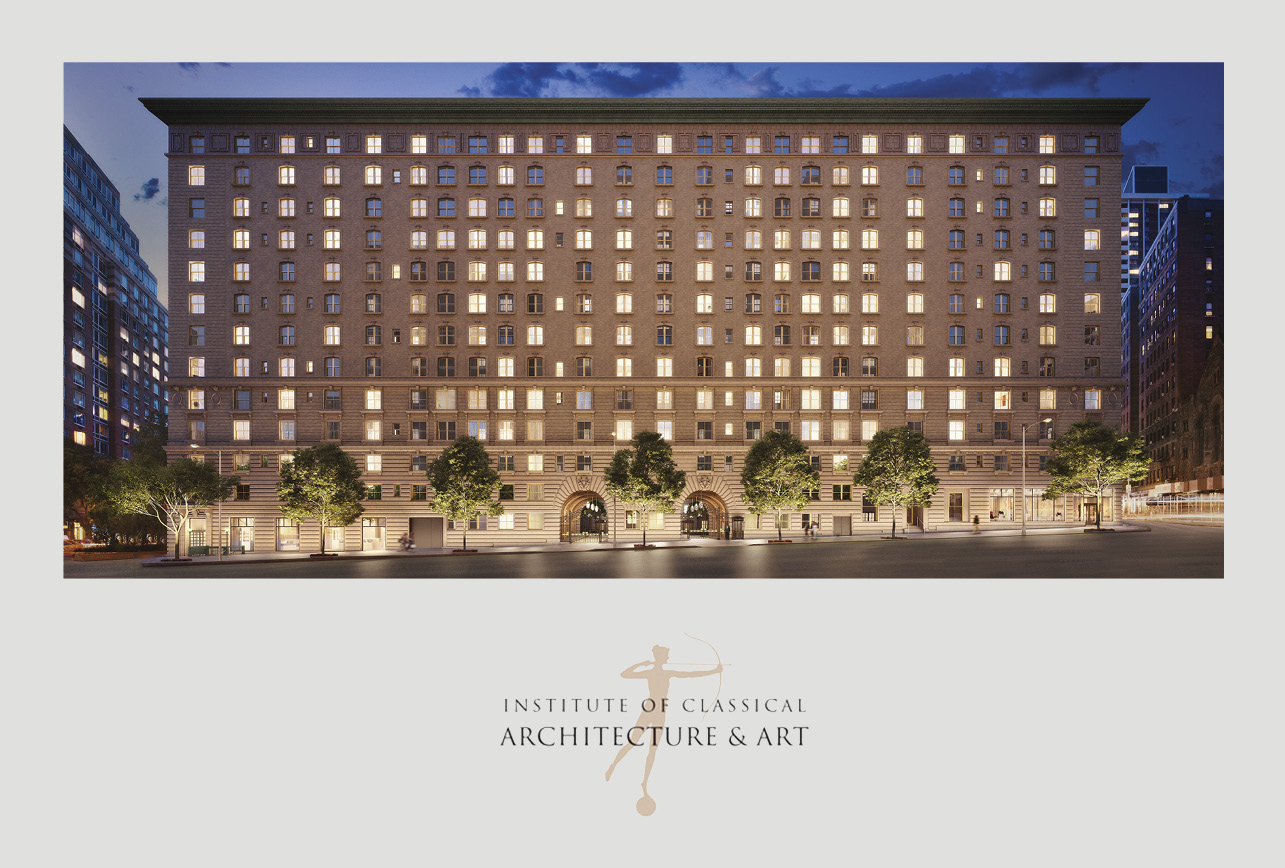 On Friday, December 7, the Institute of Classical Architecture & Art will offer a tour of the Belnord, a historic apartment house on Manhattan's Upper West Side, led by Sarge Gardiner and Paul Whalen, Partners at Robert A.M. Stern Architects. Originally completed in 1908 and designed by Hiss & Weekes, the 14-story limestone-and-brick Italian Renaissance Revival Belnord sits on a full square-block on the east side of Broadway between West 86th and West 87th Streets, enclosing a 22,000-square-foot landscaped garden entered through paired porte-cocheres. The building was designated a New York City landmark in 1966 and added to the National Register of Historic Places in 1980. Robert A.M. Stern Architects is working for HFZ Capital Group to refresh the building and transform nearly half of its rental apartments into condominium residences suited to 21st-century living.
The Institute of Classical Architecture & Art (ICAA) is a nonprofit membership organization committed to promoting and preserving the practice, understanding, and appreciation of classical design. The organization offers a broad range of educational programs including one-week intensive classes for architecture and design students, introductory programs for middle school students, lectures and walking tours for the public, continuing education courses for professionals and enthusiasts, travel programs to visit classical masterpieces, the publishing of original and reprinted books, and an annual journal entitled the Classicist.
The tour is organized by Classical Excursions which specializes in exclusive architectural tours that emphasize the enduring excellence of the traditional, including architecture, art, music, gardens, and archeology. Each tour is fully organized by experts in the field of art and architectural history and includes introductory lectures by local experts. Classical Excursions has been featured in Victoria Magazine, Travel & Leisure, Town & Country and is fully endorsed by the American Institute of Architects.
RAMSA Partners Robert A.M. Stern, Paul L. Whalen, and Mr. Gardiner led firm's Belnord design effort.