Events
January 31, 2017
Randy M. Correll to Exhibit in "Follies, Function & Form: Imagining Olana's Summer House" at AIA NY Center for Architecture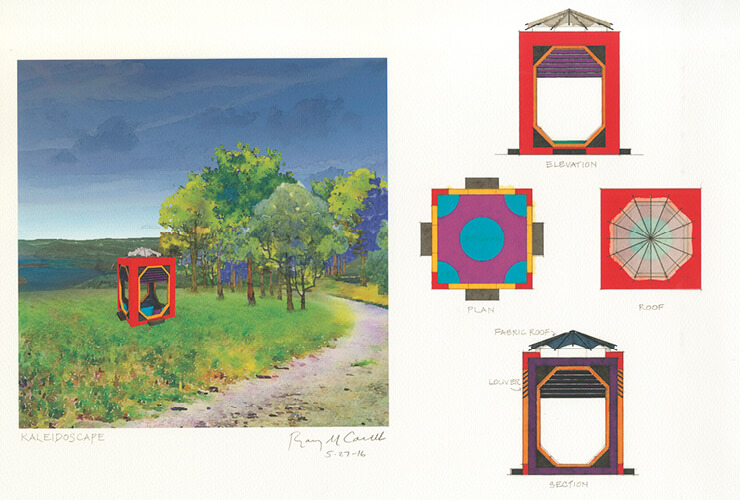 RAMSA Partner
Randy M. Correll
's rendering "Kaleidoscape" will be included in the AIA New York Center for Architecture exhibition "Follies, Function & Form: Imagining Olana's Summer House." AIANY will present the exhibition, organized by the Olana Partnership and the American Society of Landscape Architects New York Chapter, opening January 31st at the Center for Architecture in New York, through April 22nd.
Hudson River School artist Frederic Church's 1886 "Plan of Olana," his 250-acre county estate, included a structure labeled "Summer House," which mysteriously doesn't exist today. With no documentary evidence to demonstrate the design of this structure, 21 architects and landscape architects were invited to create concept sketches of the Summer House at Olana, much in the way Frederic Church sketched to convey his own design and architectural ideas.
Mr. Correll's work was inspired by an octagonal window in the master bedroom at Olana that frames a view of the landscape with color, geometry, and exotic detail. In his design, the window becomes a doorway on each side of a square pavilion. From either inside or out, these doorways frame views of the landscape beyond. Painted in vivid colors, the pavilion will both contrast with and complement the verdant summer landscape at Olana. A fabric parasol top and louvers inset at the doorways shade the interior.
For more information about Olana and the exhibition, including a full list of designers, please
click here.