Events
May 2, 2017
Robert A.M. Stern Architects at the 2017 Kips Bay Decorator Show House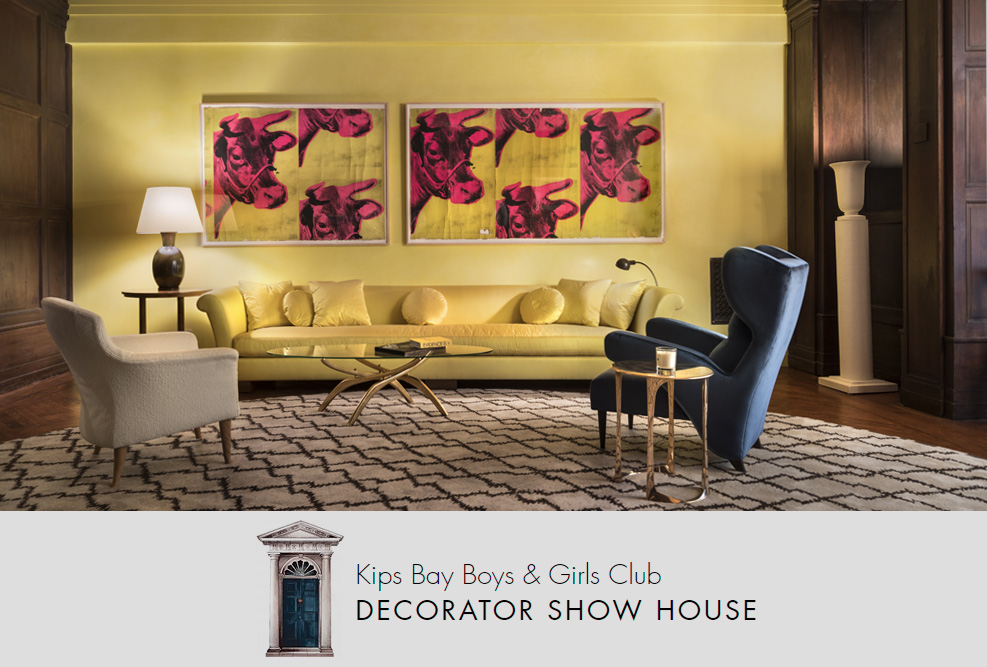 After several decades away from the show-house circuit, Robert A.M. Stern with Lauren Kruegel and Ross Alexander, representing a new generation of leadership at Robert A.M. Stern Interiors, are pleased to re-engage at the 2017 Kips Bay Decorator Show House. The design team glamorized Charles Platt's staid brown wood-paneled dining room with bold colors; one wall of yellow Venetian plaster features large framed fragments of Andy Warhol's 1966 Day-Glo chartreuse and hot pink cow-head wallpaper from Mr. Stern's personal collection.
Villa Necchi, a 1935 house in Milan designed by Piero Portaluppi, which the design team admired for its stripped-down classicism in Luca Guadagnino's 2009 film
I Am Love
, inspired them to combine a selection of Italian furniture dating from the 1930s through the 1950s with Modern French pieces from the same period. A
"Janus" chandelier
, designed by Robert A.M. Stern Architects for Remains Lighting, provides soft light above an all-glass desk by noted Italian designer and architect Gio Ponti. Other works from Mr. Stern's collection, including William Pettit's abstract "Nor Night Me" (1969), complete the composition.
RAMSA Senior Partner
Robert A.M. Stern
; Interior Design Directors
Lauren Kruegel
and
Ross Alexander
; and architectural Associate Armando Amaral led the design effort. The Kips Bay Decorator Show House runs from Tuesday, May 2nd through Thursday, June 1st. For more information, click
here
.