Events
November 10, 2016
Robert A.M. Stern in Conversation with Mark Ellwood at CS / Talks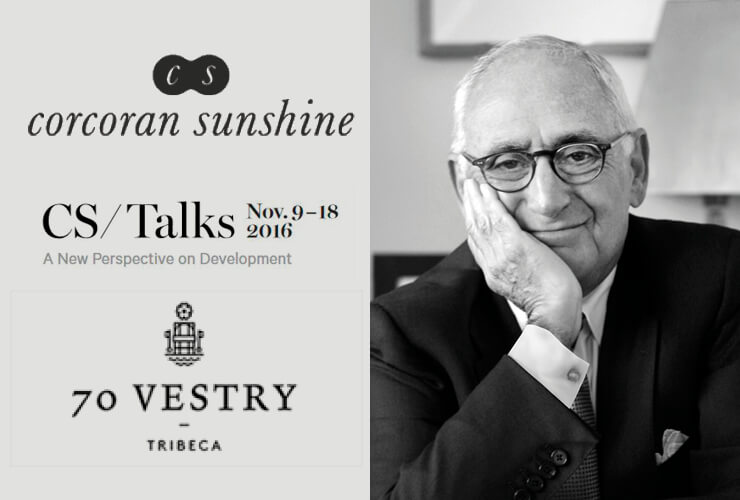 Robert A.M. Stern
will engage in conversation with lifestyle writer and television host Mark Ellwood at the CS / Talk "The Sharpest Eye in Architecture: A Conversation with Robert A.M. Stern" on November 10 at the sales gallery for 70 Vestry Street, his firm's new building for Related. The 14-story building, extending the much-admired architectural character of the Tribeca neighborhood to the Hudson River for the first time, will provide 46 condominium apartments.
"The goal of CS / Talks is to offer the brokerage community a totally new level of insight into development," said Kelly Kennedy Mack, President of Corcoran Sunshine, of last year's Talks. "CS / Talks offers extraordinary access to each property, but also aims to entertain and educate."
Corcoran Sunshine Marketing Group is a recognized industry leader in the planning, design, marketing, and sale of new luxury residential development. Founded in 2005, Corcoran Sunshine is the product of a merger between The Sunshine Group and Corcoran Group Marketing, two firms which redefined the New York development landscape since the mid-1980s. Bringing together some of the best and brightest minds in the business, and bolstered by incomparable market knowledge and innovative strategic vision, Corcoran Sunshine has consistently been ranked the top marketing and sales organization in the industry.
Now in its second year Corcoran Sunshine's weeklong speaker series CS / Talks will include visionary architects, developers, and industry experts in dialogues hosted at new developments across the city.
For a full schedule of events, please
click here
. To RSVP, please
click here
.