News
November 3, 2016
Bronx Community College Celebrates Reconfigured Quadrangle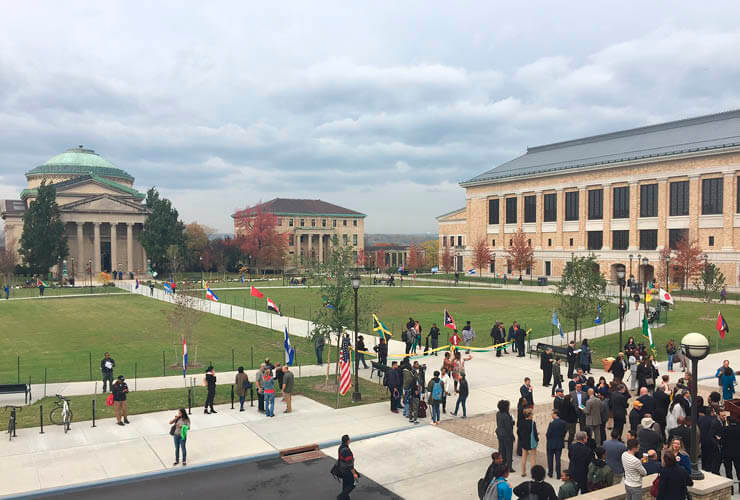 Today Bronx Community College cut the ribbon at its newly reconfigured primary quadrangle. Designed by Robert A.M. Stern Architects, the subtle asymmetry of the new landscape plan centers the quad's geometry on Stanford White's Gould Memorial Library (1900) and our firm's
North Hall and Library
(2012). The reconfiguration provides a dignified outdoor space, on par with those at the best four-year colleges and universities, establishing a strong sense of place at the center of campus for the College's commuter students, a high proportion of whom have part-time and full-time jobs.
In Fall 1973 Bronx Community College, a component of the City University of New York system, took possession of a campus that had been established by New York University in 1892. The site, with commanding views west over the Harlem River to Upper Manhattan, was originally planned by Stanford White, who set a porticoed and domed library at the head of a broad quadrangle that was to be further defined by unrealized classroom buildings. In 1956, NYU took a different tack, bringing in architect Marcel Breuer, who gave the campus a series of Brutalist buildings. In 2006 our firm completed a new space plan for the campus, proposing a combination of historic preservation, adaptive reuse, and new construction.
RAMSA Partners
Robert A.M. Stern
,
Augusta Barone
,
Alexander P. Lamis
,
Graham S. Wyatt
, and Landscape Design Director
Michael A. Weber
led the design.