News
November 5, 2015
Florida Southern College Dedicates the Becker Business School Building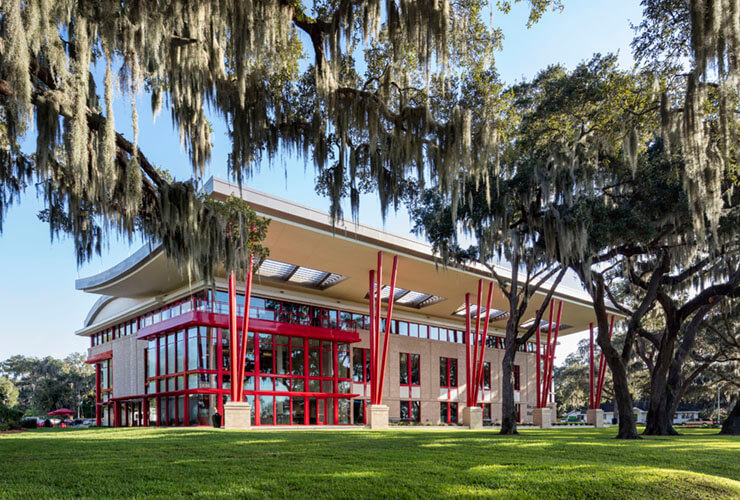 Today Florida Southern College celebrated the dedication of the Becker Business Building for the Barney Barnett School of Business and Free Enterprise. The new building, made possible by a generous donation from Bill and Mary Ann Becker, anchors the southeastern corner of the campus along Lake Hollingsworth Drive and capitalizes on views to the water. As with our previous buildings for the college, the new building's palette of precast panels, stucco, and decorative metalwork our interpretation of the language that Frank Lloyd Wright developed for the campus. Glass curtain walls facing the lake are shaded from the Florida sun by deep roof overhangs and legacy oak trees.

The three-story, 43,000-square-foot building provides seven new classrooms, a state-of-the-art trading room, and small-group breakout rooms organized around a double-height student lounge. Faculty offices are clustered near classrooms to encourage student / faculty interaction. An executive board room located above the student lounge on the third level overlooks the Lake.

"This dynamic, state-of-the-art facility is a place where generations of students will prepare for important careers throughout the world," said Florida Southern College President Anne Kerr. "It will help establish the Barney Barnett School of Business and Free Enterprise as one of the best business schools in the nation."

"The Becker Building squarely places Florida Southern College at the forefront nationally of facilities for business education. It features flexible, technologically advanced classrooms, seminar rooms, and offices," said Alexander Lamis. "Our design represents the optimistic outlook that is so much a part of the experience at Florida Southern."

The Becker Business School Building is RAMSA's fourth building at Florida Southern College. Our previous work includes the Barnett Residential Life Center, two residence halls completed in 2009, and the Christoverson Humanities Building, completed in 2010.

RAMSA Partners Robert A.M. Stern and Alexander P. Lamis led the design.