News
May 7, 2015
Harvard Kennedy School Breaks Ground for Pavilions and Raised Courtyard Project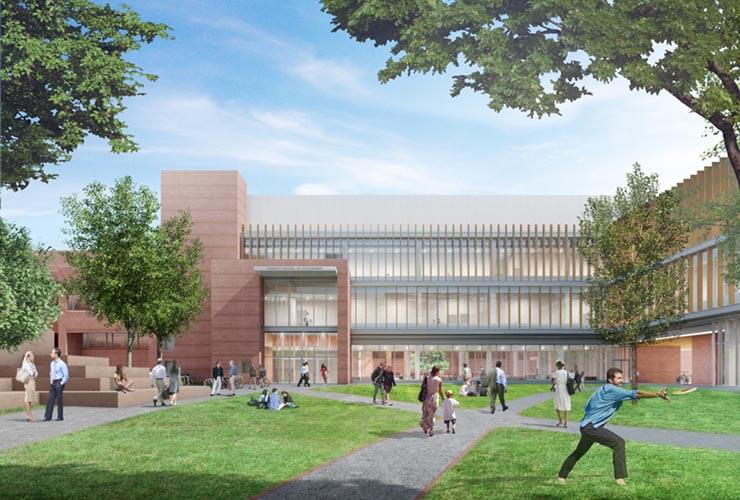 Today Harvard Kennedy School celebrated the groundbreaking of the Pavilions and Raised Courtyard Project, which will introduce clarity into the campus by inserting three new buildings that will unite the school's four existing buildings and provide much-needed program area and commons spaces.

The additions will be transparent, clad in glass, bringing light into the school's interiors and projecting a sense of activity and openness. A new Gateway Building will form a bridge between Taubman and Belfer Halls at the third and fourth floors, providing new offices and collaboration spaces. The new South Building, connecting the existing Littauer and Rubenstein Halls, will provide dining and social spaces along with classrooms. The new West Building, linking Rubenstein and Taubman Halls will provide additional classrooms. Together, these three new buildings establish for the first time continuous internal circulation among the campus's buildings.

The centerpiece of the project will be a new central lawn, a fully-landscaped Yard of the type instantly associated with Harvard—not a public stage but a democratic setting for engagement and discussion, for recreation, or for quiet study. Raised to the level of Eliot Street, the new yard simplifies circulation through the school and gives focus to the program elements organized around its perimeter. It also allows for the construction of a below-grade loading dock and secure parking for visiting dignitaries.

"Space really does transform who we are and what we do," said Dean David T. Ellwood. "This is a place that aspires to reach across disciplines, to reach across boundaries, to connect the world of scholarship with the world of practice ... and physical spaces make a difference."

"As the Kennedy School steps up its game, other public policy schools around the world will follow suit," said David Rubenstein, Chairman of the Campaign for Harvard Kennedy School. "So I think that what we're doing today is not just helping the Kennedy School. It's helping the world recognize that public policy schools deserve an important place in our society and in academic life."

"My team and I consider it an incredible privilege to work with the Harvard Kennedy School community," said Graham S. Wyatt. "When we first came to investigate the School's physical accommodations, we were surprised and frankly amazed that the unifying and forward-looking work for which this school is renowned could come out of such inadequate facilities. The Kennedy School's resolve to remedy this situation continues to inspire us."

RAMSA Partners Robert A.M. Stern, Graham S. Wyatt, and Kevin M. Smith are leading the design.