News
January 22, 2015
Immanuel Chapel at the Virginia Theological Seminary Honored with Craftsmanship Awards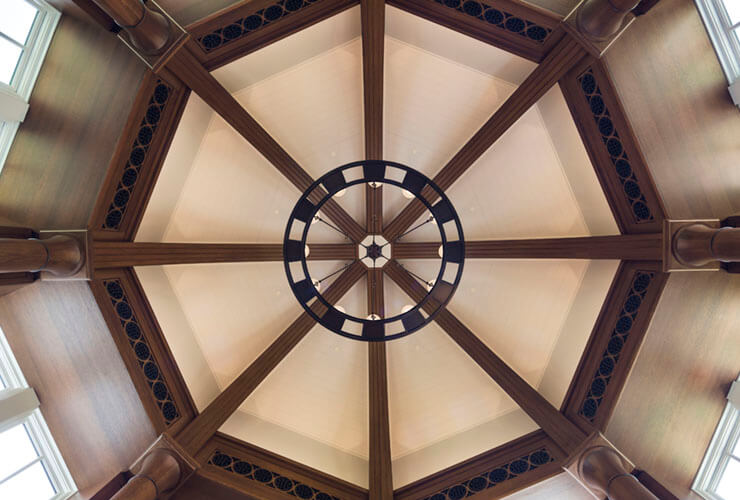 RAMSA's Immanuel Chapel at the Virginia Theological Seminary has been honored with two Craftsmanship Awards from the Washington Building Congress (WBC): one in the plaster finishes category and one for the project's architectural millwork.

Founded in 1823, Virginia Theological Seminary is the largest of the accredited seminaries of the Episcopal Church. The new Immanuel Chapel will replace the historic Immanuel Chapel, which served the Seminary from its consecration in 1881 until it was destroyed in a fire in October 2010. The new chapel will stand in peaceful conversation with the remains of the Immanuel Chapel that will continue to provide a quiet and timeless place for contemplation, and is designed to complement the Seminary's collection of historic buildings, reflecting the restrained Virginia traditions of the campus's earliest buildings. The chapel will be a flexible worship space, one that will serve as an understated backdrop to a range of liturgical purposes from large-scale celebrations to intimate services, all supporting the Seminary's educational mission. The opening liturgy in the Chapel is scheduled for February 12, 2015.

The WBC Craftsmanship Awards recognize the outstanding skill and achievement of individual craftsmen in the local construction community. The jury reviewed 286 nominations in ten categories. Winners will be honored at an award banquet on Friday, March 20, 2015, at the Marriott Wardman Park Hotel, Washington, DC.

RAMSA Partners Robert A.M. Stern and Grant Marani led the design. The Whiting-Turner Contracting Co. of Greenbelt, Maryland, are leading the construction of the project.