News
April 5, 2017
Museum of the American Revolution Announces Robert A.M. Stern Rotunda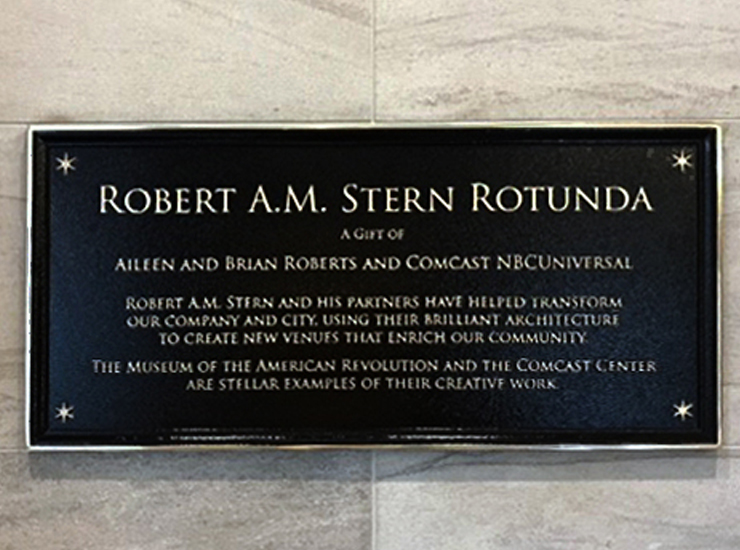 The Museum of the American Revolution announced today that it has exceeded its $150 million capital campaign goal with a $2.5 million gift from The Aileen K. and Brian L. Roberts Foundation and Comcast NBCUniversal in honor of
Robert A.M. Stern
, Senior Partner at
Robert A.M. Stern Architects
, which designed the museum. The Museum's entrance rotunda will be named the Robert A. M. Stern Rotunda.
"Robert Stern is one of the most talented, innovative, and visionary architects of our time and he has had a truly transformative impact on Philadelphia," said Brian L. Roberts, Chairman and CEO of Comcast Corporation. "It was an honor to have him design our headquarters building, and we could not be more thrilled that his work will yet again be on display through this remarkable museum. It is a privilege to be able to recognize him in this way." The $2.5 million gift, which is shared equally between the Roberts' Foundation and Comcast NBCUniversal, celebrates the incredible contributions Stern has made to Philadelphia's expanding cityscape.
"There couldn't be a more fitting way to cross the finish line of our campaign than with a gift in honor of Robert Stern, the architect who created a new, modern landmark for our home in the heart of Philadelphia's Old City," said Michael Quinn, President and CEO of the Museum of the American Revolution. "We are deeply grateful for the extraordinary generosity of our supporters and for the tireless efforts and great leadership of our Chairman Emeritus, Gerry Lenfest, our Campaign Chairman, Governor Edward G. Rendell, and our board and other supporters, who made this historic moment possible."
The Museum's capital campaign began in 2010 with the objective to raise $120 million to establish and open the museum. Major gifts include $50 million in matching grants from Founding Museum Board Chairman and Chairman Emeritus H.F. (Gerry) Lenfest; and $30 million from the Commonwealth of Pennsylvania's Redevelopment Assistance Capital Program. The rest was privately funded by the generosity of more than 11,000 supporters from every state in the nation. The fundraising campaign will continue until December 31, 2017, as there are many galleries still available to be named.
For more information on the project,
click here
. RAMSA partners
Robert A.M. Stern
,
Alexander P. Lamis
and
Kevin M. Smith
led the design effort.
The Museum of the American Revolution, opening in the heart of historic Philadelphia on April 19, 2017, explores the dynamic story of the American Revolution using its rich collection of Revolutionary-era weapons, personal items, letters, diaries, and works of art. Immersive galleries, theater experiences, and recreated historical environments bring to life the events, people, and ideals of our nation's founding and engage people in the history and continuing relevance of the American Revolution. Located just steps away from Independence Hall, Carpenters' Hall, and Franklin Court, the Museum serves as a portal to the region's many Revolutionary sites, sparking interest, providing context, and encouraging exploration. The Museum is a private, non-profit, and non-partisan organization. For more information, visit
www.amrevmuseum.org
or call 877.740.1776.