News
December 4, 2017
RAMSA Exhibition "Painting the Town: Sketches of New York" Opens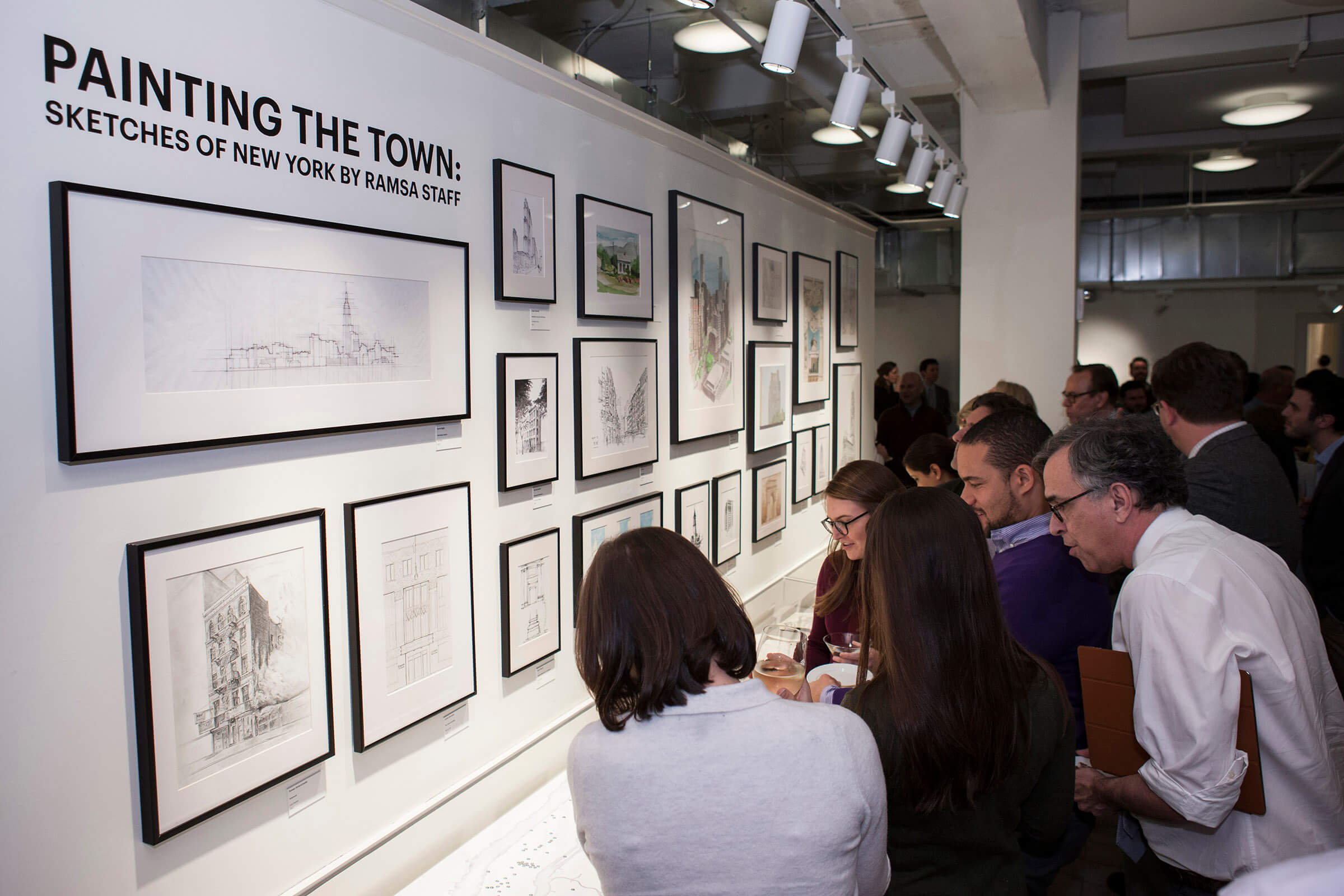 Today Robert A.M. Stern Architects celebrated the opening of Painting the Town: Sketches of New York, the third exhibition in an ongoing series which honors the firm's commitment to hand drawing. Inspired by RAMSA's recent office move, the show investigates the firm's relationship with the city we call home to convey through individual drawings the many ways that RAMSA staff and partners see New York. An epigraph from artist Georgia O'Keeffe accompanies the show: "One can't paint New York as it is, but rather as it is felt."

The drawings display various stages of finish, from dashed-off studies to carefully realized compositions. Various media afford different advantages for capturing materiality, atmosphere, depth, and detail. Each work is distinguished by the personal style and architectural sensibilities of the individual artist.

The jury for the exhibition consists of Kevin M. Smith, Partner; Christopher Heim, Senior Associate; Armando Amaral, Associate; C. Callaway Hayles, Associate; and Huaxia Song. The exhibitors are David Abecassis, Patrick Alles, Caitlin M. Baransky, Matthew A. Blumenthal, Joseph Cederoth, Lok Chan, Melissa DelVecchio, Christian Dickson, Marta Elliott, Christopher Fagan, Laura Greenberg, Melody Hanna, Christopher Heim, Kevin Hennessey, Ricardo Kendall, Alexander P. Lamis, Daniel Lobitz, Grant F. Marani, Ross McClellan, Tony McConnell, Thomas Nye, David Pearson, Kasey Puls, Aaron Rigby, David R. Rinehart, Dennis Sagiev, Mark Santrach, Jacob Tilove, Duy Vo, Karin Yang, and Boyuan Zhang.