News
June 24, 2015
RAMSA Wins Two Addison Mizner Medals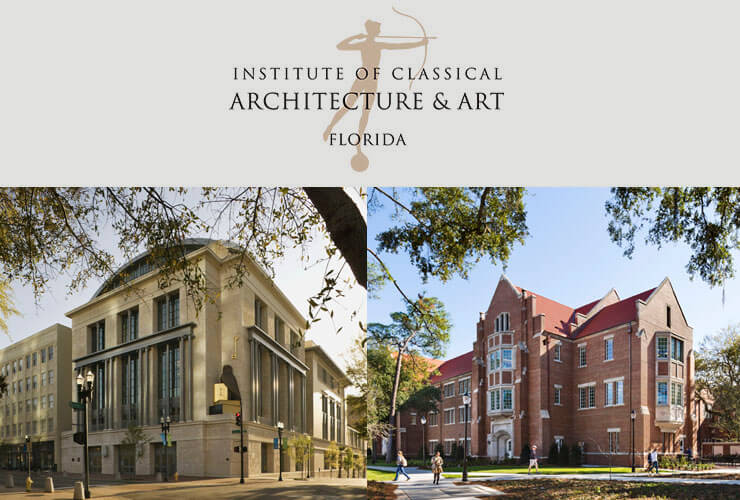 The Florida Chapter of the Institute of Classical Architecture and Art announced today that Robert A.M. Stern Architects will be honored with two Addison Mizner Medals, one for Heavener Hall at the University of Florida in Gainesville and one for the Jacksonville Public Library. The awards recognize excellence in 21st-century classical architecture, design, and related fields, honoring the achievements and contributions of those preserving and advancing the classical tradition.

Heavener Hall, completed in 2014, is home to the undergraduate programs of the Warrington College of Business and carries forward the University of Florida's unique Collegiate Gothic character established by William Augustus Edwards in the 1920s. The 54,600-square-foot-building occupies a highly visible gateway site, clarifying the campus boundary and creating a new courtyard with the adjacent Bryan Hall. RAMSA Partners Robert A.M. Stern, Graham S. Wyatt, and Melissa DelVecchio led the design of Heavener Hall.

The Jacksonville Public Library, completed in 2005, continues the city's rich tradition of civic buildings which speak in a version of the classical language adapted to the particulars of local climate and culture. The 297,000-square-foot building is designed as a welcoming and ennobling public place, designed to attract the community in all its diversity. RAMSA Partners Robert A.M. Stern and Alexander P. Lamis led the design of the Jacksonville Public Library.

The firm's House at Seaside was recognized by the Addison Mizner program in 2012.