News
January 30, 2017
RAMSA's Hotchkiss School Residence Halls Honored With ICAA New England's 2017 Bulfinch Award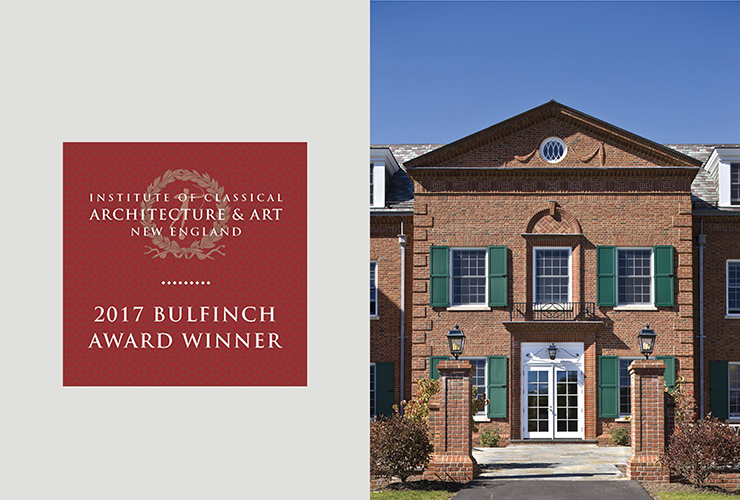 Today the New England Chapter of the Institute of Classical Architecture and Art announced that Robert A.M. Stern Architects' three residence halls at the Hotchkiss School have been honored with a 2017 Bulfinch Award.
Flinn and Edelman Halls, completed in 2007, and Redlich Hall, completed in 2016, together define a new campus green on the Hotchkiss campus. Each building bookends a red-brick central mass with faculty apartments in gambrel-roofed wings with porches, and contains the palette of the campus's historic buildings with double-hung windows, fine brick details, and inviting entry porticos. Redlich Hall's Corinthian-order detailing complements the Ionic of Flinn and the Doric of Edelman. Flinn and Edelman Halls each provide 29 student dormitory rooms with shared bathrooms, study rooms at each floor, a generous ground floor lounge with a fireplace opening to a terrace for student activities, and four faculty apartments with fireplaces and outdoor porches. Redlich Hall provides an additional 60 beds and the same amenities.
The ICAA's national awards program, inaugurated in 1982 as the Arthur Ross Awards, was a model for the New England chapter's regional awards program, initiated in 2010 and named for America's first native-born architect, Charles Bulfinch. This year, the chapter expanded the scope for entries from work in New England by firms in New England to work in New England by firms from throughout the United States. The 2017 Bulfinch Awards will be presented at a ceremony and dinner at the Harvard Club of Boston on April 29, 2017. For tickets and further information, please
click here
.