News
September 6, 2016
Robert A.M. Stern Architects Announces Winners of 2016 RAMSA Prize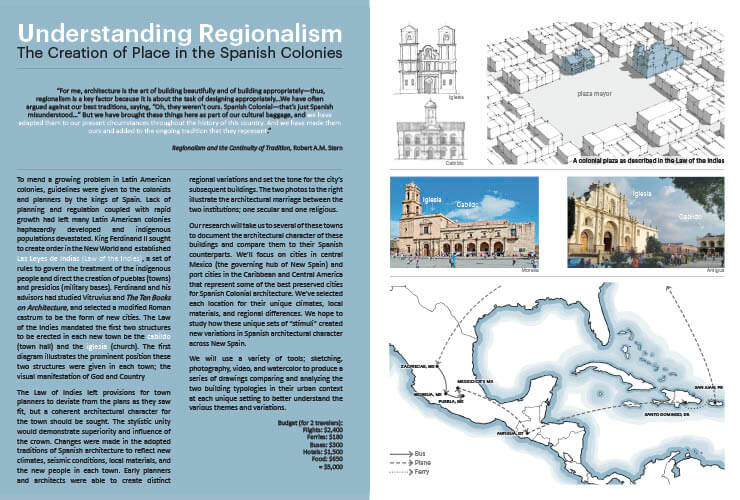 The Partners of Robert A.M. Stern Architects are pleased to announce that Javier Perez and Robert Moldafsky have won the 2016 RAMSA Prize with their proposal
Understanding Regionalism: The Creation of Place in the Spanish Colonies
. The RAMSA Prize is a $5,000 grant awarded annually by the partners to a RAMSA employee for the purpose of travel and research. This two-week-long travel fellowship, promoting explorations into a location's sense of place, is intended to encourage RAMSA staff to engage in targeted, in-depth research into a city, town, or region in a way that can meaningfully inform design work. In addition, the prize allows staff to pursue personal interests as an extension of the firm's research-based design principles.
Mr. Perez and Mr. Moldafsky's research will "focus on cities in central Mexico and port cities in the Caribbean and Central America that represent some of the best preserved cities for Spanish Colonial architecture, each location selected for its unique climate, local materials, and regional differences," wrote Perez and Moldafsky. "We hope to study how these unique sets of stimuli created new variations in Spanish architectural character across New Spain."
The jurors, RAMSA Partners
Gary L. Brewer
,
Meghan L. McDermott
, and
Paul L. Whalen
, were impressed by the carefully thought-out program, clear deliverables, and feasible itinerary for the two-week travel period. The jury felt that their project was "reflective of RAMSA's interests in urban planning, precedents, and working at the intersection of city planning and architecture."
In addition, the jury congratulates the three runners-up:
- Christian Mueller,
Locus Ex Nihilo: Placemaking in a Tabula Rasa Condition
- Daniel Ottochian,
Grand Central Stations
- Matthew Cook and Mark Santrach,
Steeped in History: The Architecture and Urbanism of the Tea-Horse Road
Impressed by the creativity and quality of thought in the proposals, the jury would also like to thank all participants who helped make the inaugural year of the prize a success: David Abecassis, Victoria Baran, Caitlin Baransky, Matt Blumenthal, Seymour Clifford, Robert Cox, Thomas Day, Brenna Decker, Monica Gaura, Sarah Hadianti, Taylor Haywood, Laura Maranto, David Pearson, Mason Roberts, Eric Silinsh, Benjamin Sirota, Jef Zaborski, and Boyuan Zhang.
About Robert A.M. Stern Architects
Robert A.M. Stern Architects, LLP, is a 320-person firm of architects, interior designers, and supporting staff. Over its forty-seven-year history, the firm has established an international reputation as a leading design firm with wide experience in residential, commercial, and institutional work. As the firm's practice has diversified, its geographical scope has widened to include projects in Europe, Asia, South America, and throughout the United States. The firm maintains an attention to detail and commitment to design quality which has earned international recognition, numerous awards and citations for design excellence, including National Honor Awards of the American Institute of Architects, and a lengthening list of repeat clients.