News
September 7, 2017
Robert A.M. Stern Architects Announces Winners of 2017 RAMSA Prize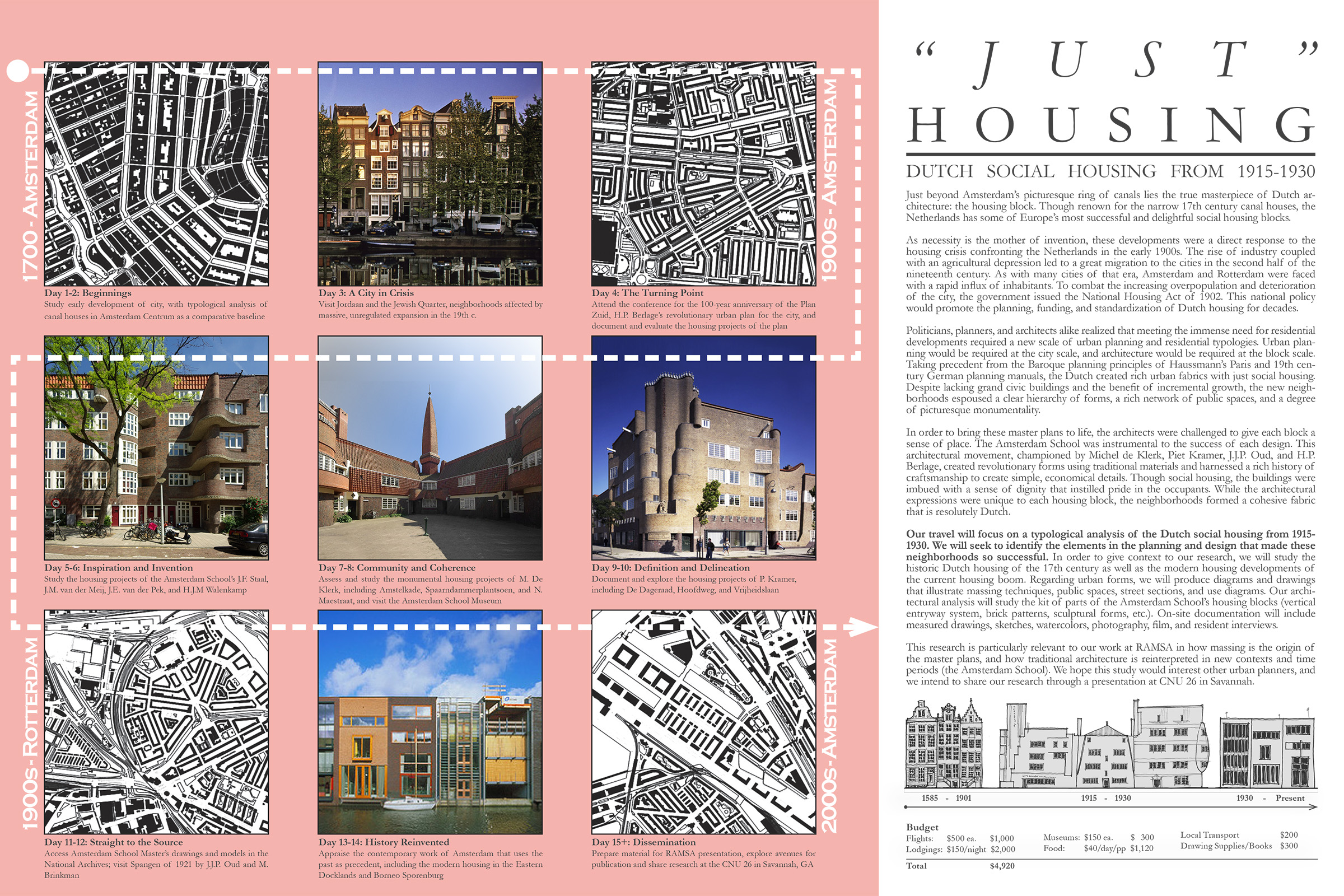 The Partners of Robert A.M. Stern Architects are pleased to announce that Robert Cannavino and Mark Santrach have won the 2017 RAMSA Prize with their proposal "Just" Housing: Dutch Social Housing from 1915 to 1930. The RAMSA Prize is a $5,000 grant awarded annually by the partners to a RAMSA employee or employees for the purpose of travel and research. This two-week-long travel fellowship, promoting explorations into a location's sense of place, is intended to encourage RAMSA staff to engage in targeted, in-depth research into a city, town, or region in a way that can meaningfully inform design work. In addition, the prize allows staff to pursue personal interests as an extension of the firm's research-based design principles.
Mr. Cannavino and Mr. Santrach's research will focus on the early 20th century social housing in Amsterdam that originated from the National Housing Act of 1902. The completion of entire neighborhoods during a small window of time between the First and Second World Wars aimed to combat the increasing overpopulation and deterioration of the city, and would promote the planning, funding, and standardization of Dutch housing for decades. "The Dutch created rich urban fabrics with just social housing," wrote Cannavino and Santrach. "Despite lacking grand civic buildings and the benefit of incremental growth, the new neighborhoods espoused a clear hierarchy of forms, a rich network of public spaces, and a degree of picturesque monumentality."
The jurors, RAMSA Partners
Gary L. Brewer
,
Meghan L. McDermott
, and
Paul L. Whalen
, were impressed by the proposal's focus on both planning and building design issues. The jurors found the proposal "not only relatable to planning and building types that RAMSA is involved with, but a stylistic range of work that interests us deeply; and while many architects have travelled to the Netherlands, we have not seen a study like this presented internally—it's a unique place that shouldn't be overlooked." The jury also appreciated that Mr. Cannavino and Mr. Santrach will attend a conference honoring 100 years of urban planning in Amsterdam and that they "combined their study-trip with a topic they plan to adapt as a proposal for a presentation at CNU 26 in Savannah, Georgia, in 2018."
In addition, the jury congratulates the two runners-up for their proposals:
- Brenna Decker, Tracing the Anatomy of a Capital City (Myanmar)
- Natalia Klusek, War + Architecture: The Story of the Built Environment as Edited by Conflict (Jerusalem, Sarajevo, Moscow)
Impressed by the creativity and quality of thought in the proposals, the jury would also like to thank all participants who helped make this year's prize a success: David Aldana, Patrick Corrigan, Robert Cox, Thomas Day, Christopher Fagan, Laura Greenberg, Monica Gaura, David Pearson, Natalie Pierro, Ian Spencer, and Boyuan Zhang.
About Robert A.M. Stern Architects
Robert A.M. Stern Architects, LLP, is a 275-person firm of architects, interior designers, and supporting staff. Over its forty-eight-year history, the firm has established an international reputation as a leading design firm with wide experience in residential, commercial, and institutional work. As the firm's practice has diversified, its geographical scope has widened to include projects in Europe, Asia, South America, and throughout the United States. The firm maintains an attention to detail and commitment to design quality which has earned international recognition, numerous awards and citations for design excellence, including National Honor Awards of the American Institute of Architects, and a lengthening list of repeat clients.