News
January 8, 2018
Schwarzman College Certified LEED Gold, Commits to RESET Air Quality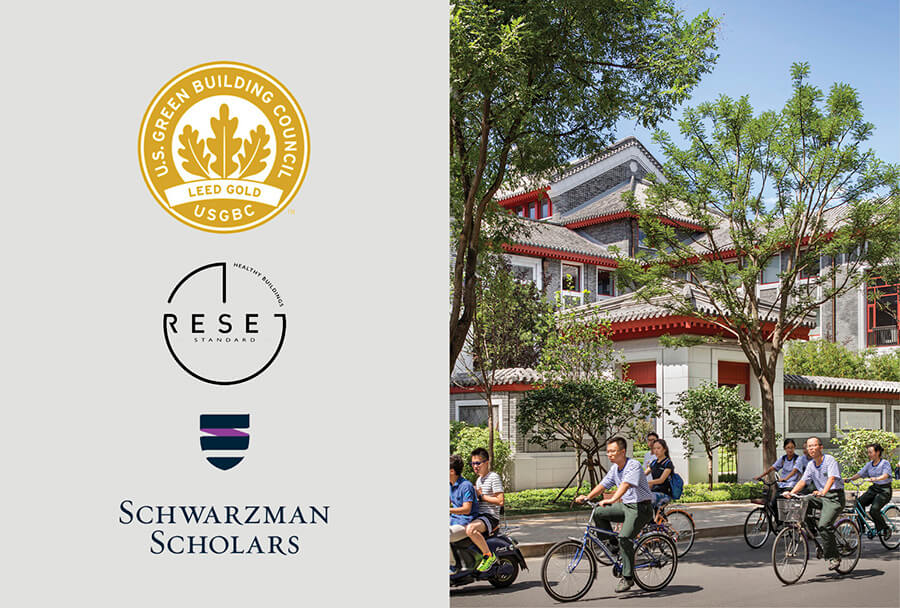 Robert A.M. Stern Architects'
Schwarzman College
at the Tsinghua University in Beijing has been certified LEED Gold by the U.S. Green Building Council (USGBC).
Set on the campus of Tsinghua University, one of China's most prestigious universities, Schwarzman College opened its doors with the inaugural class of
Schwarzman Scholars
in 2016. Designed by Robert A.M. Stern Architects, the 200,000 square foot campus houses one of the most advanced higher-education facilities in the world and is one of the first LEED Gold–certified academic buildings in China. The building, intended to foster community among scholars from around the world and resident and visiting faculty, combines academic, social, and residential functions in a single structure. Recalling traditional houses of China, the building is organized around two courtyards: an entry courtyard behind a low garden wall at the street and a sunken interior courtyard that allows daylight to penetrate two levels below grade. The building is clad in the gray brick characteristic of Beijing accented with stone and wood details. A traditional tile roof moderates the scale of the building and accentuates its corners. Much like the program it houses, Schwarzman College synthesizes Chinese and Western traditions.
"While creating the program, it was important that the building of Schwarzman College be a representation of the innovation and positive global impact that the program as a whole will have for the future," said Stephen A. Schwarzman, Founding Trustee of Schwarzman Scholars.
Schwarzman College is designed to use 40% less energy than a typical U.S. code baseline building, utilizing sustainable features that include reverse osmosis and ultraviolet water treatment systems; energy-efficient lighting controls including daylight harvesting and vacancy sensors; onsite stormwater controls designed to accommodate 100-year storms; and a building automation system with interactive monitors that display energy consumption in real time.
Schwarzman College has also committed to RESET Certified air quality monitoring, which uses a cloud-based tool focused on health and regeneration to provide accurate metrics regarding the performance of indoor air filtration. RESET makes air quality data easily available to all occupants of the building.
"The Schwarzman Scholars Program provides an advanced educational experience in a building with exceptionally good indoor air quality, designed to optimize the health and performance of scholars" said Raefer Wallis, Founder of RESET. "Achieving RESET Certification ensures scholars have access to accurate, up to date data on both indoor and outdoor air quality, and, ensures that the building's high-efficiency filtration system continues to perform over time."
RAMSA Partners
Robert A.M. Stern
,
Graham S. Wyatt
and
Melissa DelVecchio
led the design effort. For more information, please click
here
.