News
August 24, 2018
University of Alabama at Birmingham Celebrates the New Home of the Collat School of Business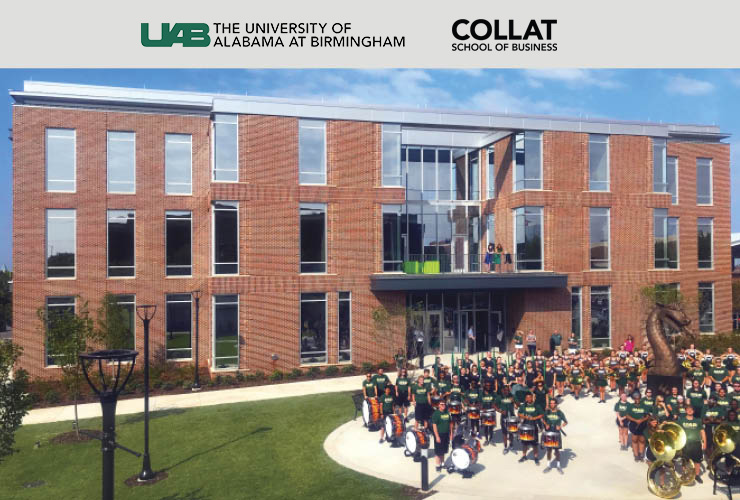 A ribbon-cutting ceremony today at the University of Alabama at Birmingham celebrated the opening of the new building for the Collat School of Business and the Bill L. Harbert Institute for Innovation and Entrepreneurship, designed with input from students and community business leaders and offering classrooms outfitted for team-based learning, an innovation lab, a high-tech trading and finance lab, sales role-playing rooms, a three-story atrium, a career center, and study spaces. The 108,000-square-foot facility is now home to a variety of advanced learning centers that support the University's graduate and undergraduate business programs, including the Center for Sales Leadership, the Nielsen Innovation Lab, the Healthcare Leadership Academy, and the Regions Institute for Financial Education. The collocation of these cross-disciplinary entities will foster increased collaboration and enable students to create relationships with local business leaders that extend beyond the classroom.
"This beautiful new building changes everything," said Dr. Eric P. Jack, Dean of the Collat School of Business. "This addition to UAB's campus heralds a new era of leadership in business education that will help drive innovation at UAB and in Birmingham for many years to come."
"The new Collat School of Business building creates a hub for innovation and entrepreneurship right in the heart of campus that serves students, faculty, and also the wider Birmingham innovation community," said Kathy Nugent, Ph.D., Associate Vice President and Executive Director of the Bill L. Harbert Institute of Innovation and Entrepreneurship.
RAMSA Partners Graham S. Wyatt and Kevin M. Smith led the design effort. Williams Blackstock Architects of Birmingham served as architect-of-record.