News
August 23, 2017
University of Connecticut Opens New Downtown Hartford Campus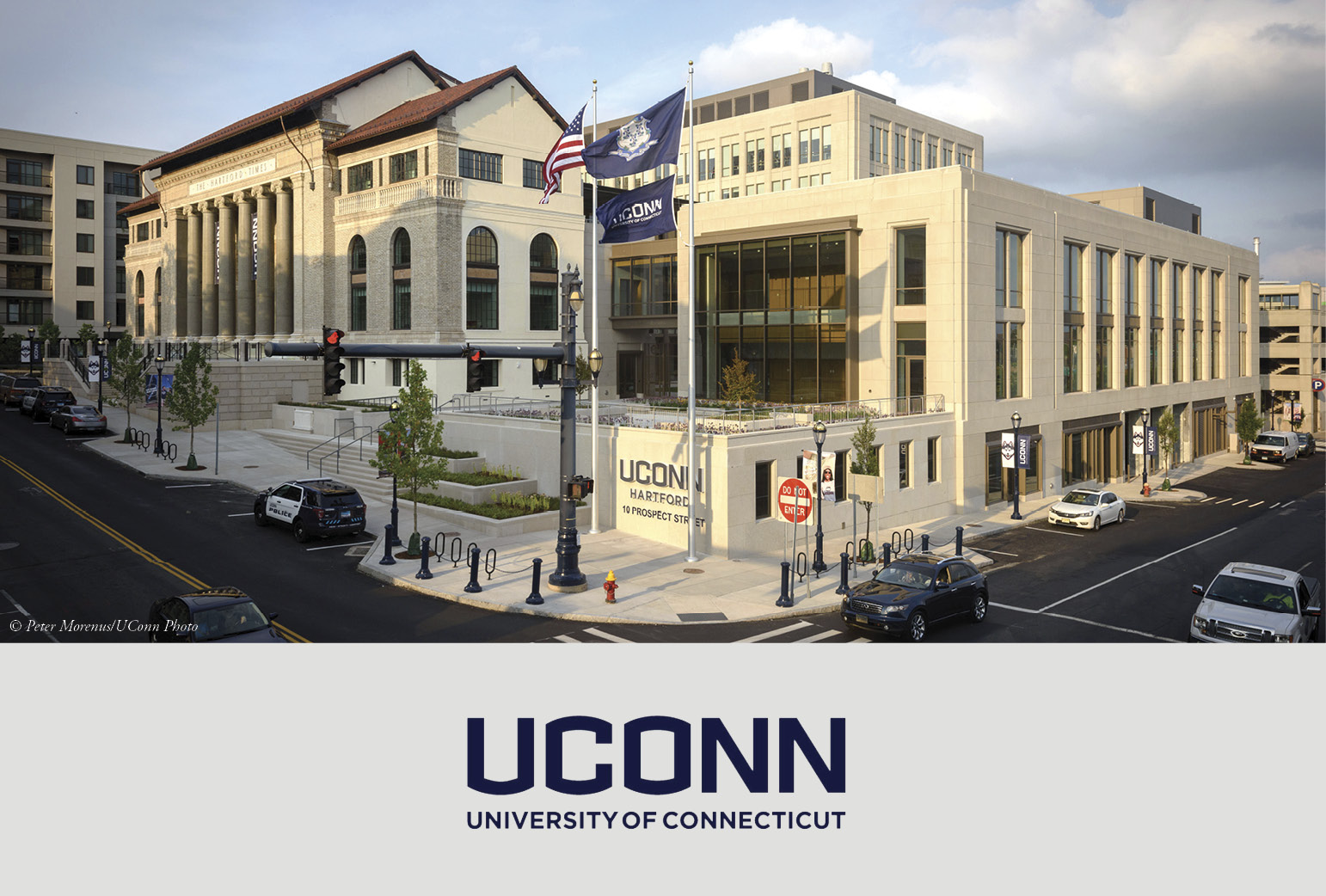 Today the University of Connecticut opened its new Downtown Hartford campus, restoring the historic Hartford Times Building (Donn Barber, 1920) and integrating it into a new five-story academic building that provides offices and meeting rooms for academic departments, classrooms, teaching laboratories, student and administrative spaces, casual dining, and social spaces.
The west facade of the long neglected but much beloved Hartford Times Building is now the symbolic entry to UConn's Downtown Hartford campus, facing City Hall Park with restored staircases and a colonnaded portico. Through an entrance from Front Street, a four-story naturally-lit atrium connects the Hartford Times Building to the new five-story academic building to the east. The atrium serves as the social hub of the campus, opening to a south-facing public courtyard. The new campus's buff-colored precast concrete facades take cues not only from the Hartford Times Building but also neighboring historic structures including Hartford City Hall, the Wadsworth Athenaeum, and the Traveler's Tower. At the corner of Prospect and Arch Streets, diagonally across from the main branch of the Hartford Public Library, a broad plaza steps up to the courtyard to welcome the Hartford community to the new campus. The building continues the revitalization downtown of Hartford's Front Street District, enlivening Front and Arch Streets with much needed retail space.
"This is one of the greatest, most momentous days in the 136-year history of UConn, and an exceptionally proud moment for this city and our state," said UConn's President Susan Herbst. "UConn Hartford is not only brick, mortar, and steel," she continued. "It is a living, breathing institution at the core of this city. It will be part of the backbone of Hartford: a place of learning, engagement, and discovery, and a vibrant part of this neighborhood and the capital city as a whole."
"What we have dedicated here today is more than just a building," said Robert A.M. Stern. "It is a milestone in the revitalization of Downtown Hartford as well as for education in the State of Connecticut. We believe the future of cities lies in considerable part with centers of learning that will attract students who want to be amidst the stimulation of city life but also have a place away from the hustle and bustle to concentrate on their academic work. I hope that those who will subject our new building to daily use will find it an ennobling setting for individual learning and scholarly collaboration." He added, "I would like to express the hope that the success of this new campus will lead to more investment in Hartford. This city and its students deserve our ongoing commitment to excellence."
Our new building utilizes best practices for sustainability with a target of LEED Gold certification. RAMSA Partners
Robert A.M. Stern
,
Graham S. Wyatt
and
Preston J. Gumberich
led the design effort. For more information on the project, please click,
here
.