News
September 18, 2015
The University of Georgia Dedicates Correll Hall, Breaks Ground on Phase II of the Business Learning Community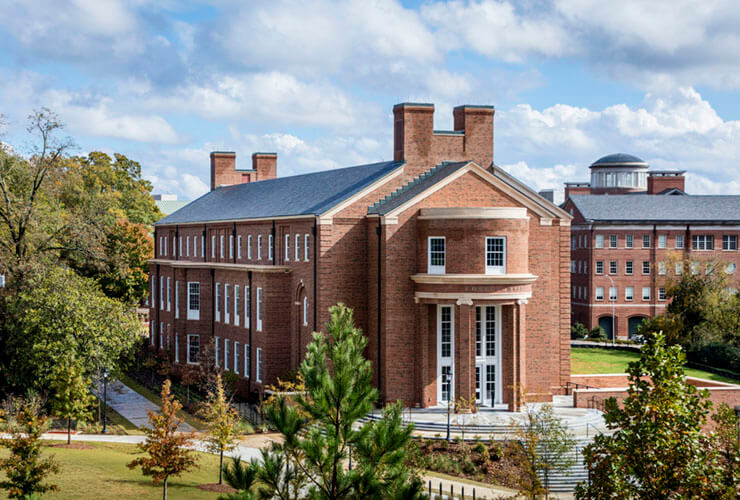 Today the University of Georgia's Terry College of Business celebrated two milestones: the dedication of Correll Hall, the first phase of a new Business Learning Community, and the groundbreaking for the second phase of construction.

Located on the corner of Lumpkin and Baxter streets on UGA's North Campus, the new 74,000-square-foot Correll Hall, named for A.D. "Pete" Correll and his wife Ada Lee Correll, will house Terry College's Master's programs in business administration, accountancy, and market research and will mark a northern gateway to UGA's Athens campus. The second phase will accommodate the College's undergraduate programs and form a quadrangle with Correll Hall. When completed, the 312,000-square-foot Terry College of Business will be organized around two quadrangles and negotiate a 40-foot of grade change as it steps down from north to south. Primarily neo-Georgian in expression, the new Terry School will incorporate Greek Revival motifs that are common to the University of Georgia and the architecture of Athens, carrying forward the campus's historic palette of red brick, limestone trim, and slate roofs. Construction on the facility, which was funded entirely by $35 million in private donations, took two years to complete.

"As the times have changed, so has the Terry College, which has remained on the leading edge—always adapting in order to prepare the next generation of business leaders," said UGA President Jere W. Morehead. "The Business Learning Community was born out of this pioneering spirit and commitment to excellence."

"This is a very special day for the Terry College, for its alumni, friends, faculty, and staff and most importantly for its students," Dean Benjamin C. Ayers said. "The construction of the Business Learning Community will forever impact thousands of Terry undergraduate and graduate students, who will achieve great things as a result of their education at the University of Georgia."

"Ada Lee and I are immensely proud to be tied to the legacy of the Terry College and the University of Georgia, which has helped so many young men and women over the years. I know firsthand that the state of Georgia and its workforce benefit directly from the teaching and learning that happen here. We're excited to enhance that contribution to our state and nation by helping the Terry College reach new levels of excellence" said Correll.

Construction of Amos Hall, the centerpiece of the second phase of the Business Learning Community, is slated to be completed in 2017. In all, Phase II will span approximately 140,000 square feet and will include two large auditoriums, eight classrooms, a trading room, a behavioral lab, an undergraduate commons, conference rooms, and faculty and staff offices. Phase II is supported by $43 million in state funds and $14 million in private donations.

"I was honored to be asked to chair this capital campaign and am humbled by the notion that the Amos name will forever be linked to this incredible learning institution," said Dan Amos. "I will continue to support UGA so that future generations will have the opportunity to learn from some of the greatest business minds in the nation."

RAMSA Partners Robert A.M. Stern, Kevin M. Smith, and Graham S. Wyatt led the design of the project. Rule Joy Trammell + Rubio, LLC of Atlanta, Georgia, served as the Architect-of-Record.