News
October 13, 2015
Virginia Theological Seminary Consecrates new Immanuel Chapel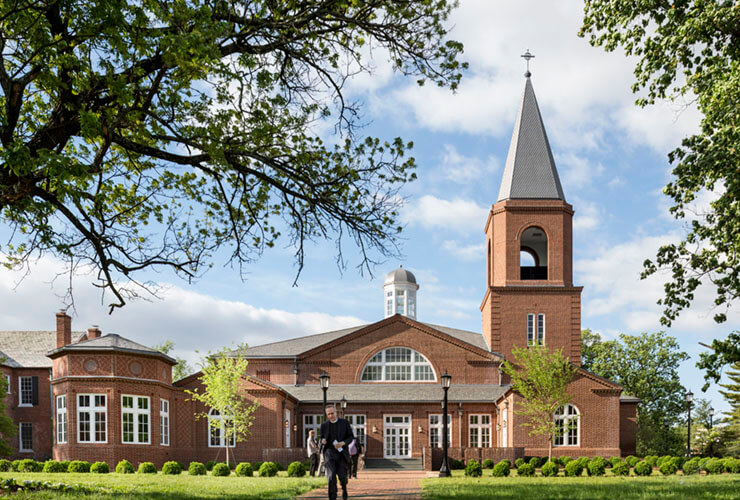 Today the Virginia Theological Seminary, the largest of the accredited seminaries of the Episcopal Church, consecrated the new Immanuel Chapel, designed by Robert A.M. Stern Architects. Katherine Jefferts Schori, the Presiding Bishop of the Episcopal Church of the United States, presided and the Archbishop of Canterbury, Justin Welby, the symbolic leader of the worldwide Anglican Communion, preached. Robert A.M. Stern addressed the congregation.

"This is a very exciting time in the life of Virginia Theological Seminary," said the Very Reverend Ian S. Markham, Ph.D., Dean, and President. "More than a thousand guests will be here to join the trustees, faculty, staff, and students for this historic occasion offered to the Glory of God." The new Immanuel Chapel "is a testament to a remarkable traditional exterior coupled with a strikingly modern interior," he said. "The exterior promises continuity; the interior promises that VTS is creating a new future for the Church."

"The design of a sacred space is one of the greatest privileges that an architect could wish for—perhaps the greatest," said Robert A.M. Stern. "We were blessed with such a gift when four-and-a-half years ago, still mourning the loss of the historic chapel that had stood as the physical and spiritual heart of the campus for nearly 130 years, this Seminary entrusted our firm with the design of its replacement. It was a daunting challenge, but the loving direction and support of the Seminary's leadership provided us with the lift we needed to meet it. My colleagues and I are grateful for the privilege of being part of the Seminary's commitment to help perpetuate its important and enduring message."

The new chapel replaces the historic chapel, which served the Seminary from 1881 until it was destroyed in a fire in October 2010. The chapel also functions as a space to teach seminarians to lead worship. In concert with the pedagogical mission of the Seminary, we have been careful to design a flexible worship space, one that serves as an understated backdrop to a range of liturgical purposes from large-scale celebrations to intimate services in which seminarians, the local congregation, and the global Episcopal Commune can worship together. These configurations support the Seminary's mission of forming men and women for lay and ordained leadership within the community, with particular attention to raising leaders for the Episcopal Church.

RAMSA Partners Robert A.M. Stern and Grant Marani led the design.