News
February 15, 2018
Yale Residential Colleges Win 2018 Bulfinch Award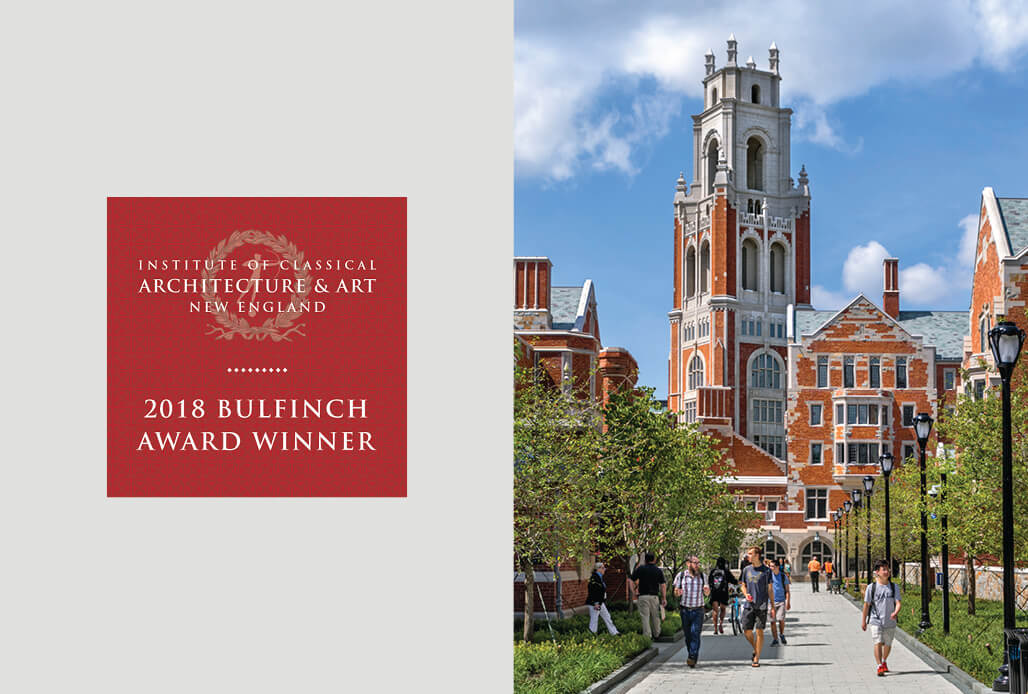 The New England Chapter of the Institute of Classical Architecture and Art announced today that Robert A.M. Stern Architects' two new residential colleges at Yale University have been honored with a 2018 Bulfinch Award. RAMSA Partners
Robert A.M. Stern
,
Graham S. Wyatt
, and
Melissa DelVecchio
led the design effort.
Benjamin Franklin College and Pauli Murray College
, Yale's first new residential colleges in fifty years, housing 452 students each on a triangular 6.2-acre site and carrying forward the Collegiate Gothic style established by architect James Gamble Rogers between the two world wars. For more information about the new colleges, please click
here
.
The Bulfinch Awards are a program of the Institute of Classical Architecture & Art New England Chapter (ICAA New England) and recognize practitioners from across the nation who are committed to promoting excellence in the classical tradition and allied arts within New England. All eligible projects work toward building upon the legacy of Boston architect Charles Bulfinch (1763-1844), who is widely regarded to be the first native-born American to work in the field professionally. Initiated in 2010 and modeled on the ICAA's Arthur Ross Awards, the New England Bulfinch Awards program is an annual competition. The 2018 judges were Marc Appleton, Thomas Pheasant, and Greg Tankersley. The winners of the Bulfinch Awards will be recognized at a ceremonial reception and dinner gala at the Harvard Club of Boston on Saturday, April 28, 2018 at 6:00 pm. For more information about the Bulfinch Awards, please click
here
.