News
October 6, 2017
Yale University Dedicates Benjamin Franklin College and Pauli Murray College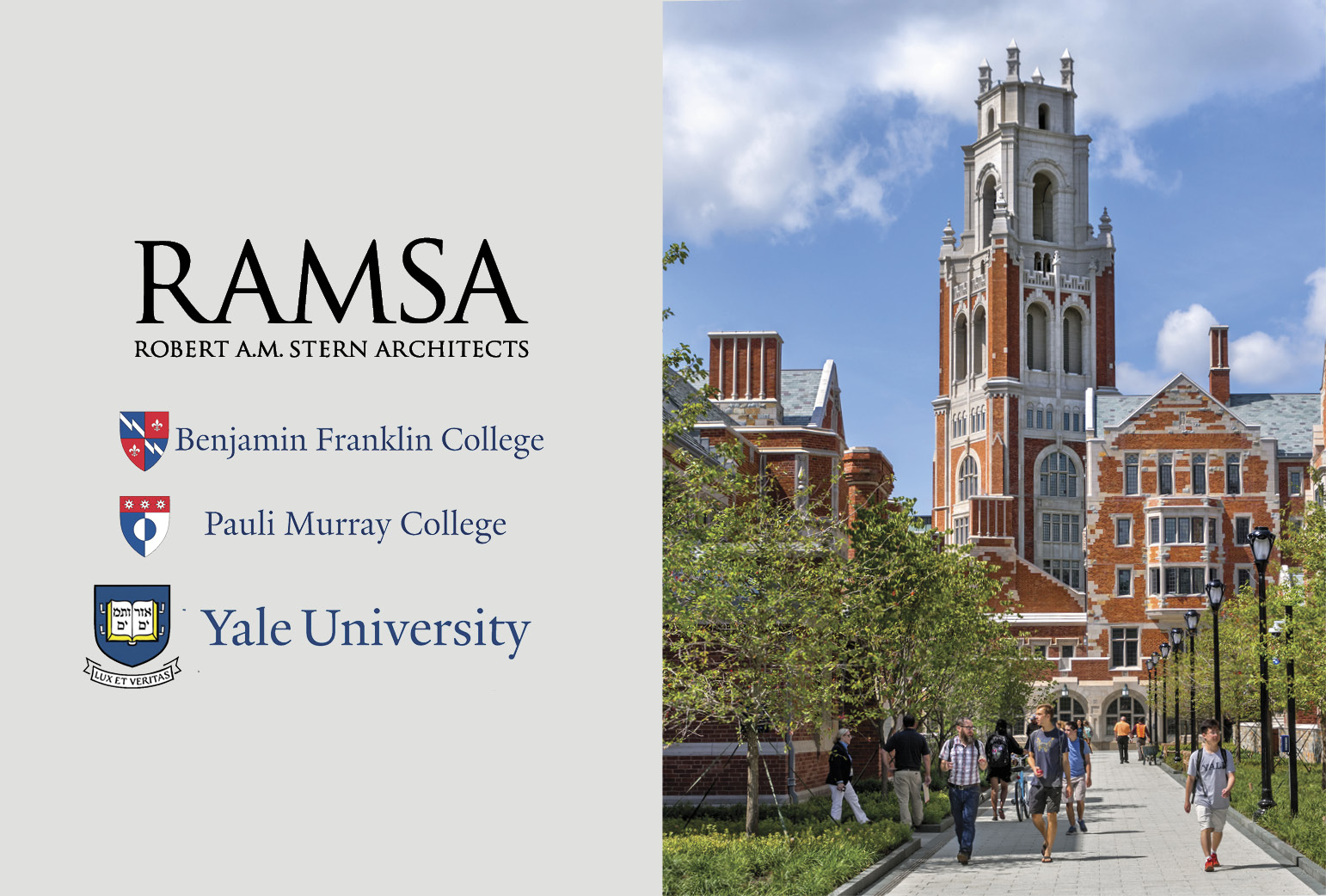 Today Yale University dedicated Benjamin Franklin College and Pauli Murray College, Yale's first new residential colleges in fifty years.
Yale's system of residential colleges is the cornerstone of its undergraduate experience. Between the two world wars, under the leadership of architect James Gamble Rogers, ten residential colleges were built, six (as well as many academic buildings) adhering to the Collegiate Gothic style with which Yale is most identified today. The colleges were organized as quadrangles around variously sized courtyards, and in their totality achieved a finely calibrated urbanism comparable to that of England's Oxford and Cambridge universities. As we set out to design the first new residential colleges to be built since the two Eero Saarinen-designed colleges in 1962, we allowed Rogers to show us the way, not only with his expressive interpretation of the Gothic but also with the genius of his urbanism.
Our two new colleges, housing 452 students each on a triangular 6.2-acre site bisected by Prospect Walk, a landscaped public pedestrian way, are conceived as fraternal twins, each similar in size but enjoying its own identity, each incorporating a 300-seat dining hall, a library, student recreation spaces, and a house for the Head of the College, and each maintaining the traditional organization of entryways that intentionally create more intimate communities of students within the larger whole. Echoing Roger's environmentally responsive massing, building heights rise from north to south to allow for maximum sunlight in the courtyards, which are linked by sixteen unique stone-and-brick-lined arched passageways. The new colleges add to Yale's lively skyline with a variety of dramatically modeled towers that include the 192-foot Edward P. Bass Tower, visually collapsing the distance between Yale's Central Campus and the precinct of Science Hill to the north.
The dedication ceremony, held in the Benjamin Franklin College Dining Hall, was opened by Tina Lu, Head of Pauli Murray College, and included remarks from Marvin Chun, Dean of Yale College;
Robert A.M. Stern
, Senior Partner at Robert A.M. Stern Architects; Peter Salovey, President of Yale University; and Edward P. Bass, namesake of the Edward P. Bass Tower; with a closing address by Charles Bailyn, Head of Benjamin Franklin College. A ribbon cutting ceremony followed on Prospect Walk.
"Throughout Yale's history, the university has endeavored to be accessible to talented and hardworking students, no matter their family circumstances," said President Peter Salovey. "I have long supported expanded access to undergraduate education by building two new residential colleges. The incoming class, with nearly 1,600 students, will be the largest in Yale College history. This is a 15% increase in class size. It is thrilling to think about educating 200 more undergraduates in each cohort!"
"I want to thank Yale University for entrusting us with shaping so much of its future," said Robert A.M. Stern. "I see architecture as a Janus-faced art, reifying that which is good from the past and at the same time adapting to change. The design of Benjamin Franklin College and Pauli Murray College offered us the privilege and the opportunity to enter into a conversation across time with Yale's historic architecture and urbanism. We have aimed to situate the new colleges in a place between convention and invention."
RAMSA Partners
Robert A.M. Stern
,
Graham S. Wyatt
,
Melissa DelVecchio
, and
Jennifer L. Stone
led the design effort. For more information on the project, please click
here
.