News
June 19, 2019
American Water Headquarters Wins 2019 ULI Award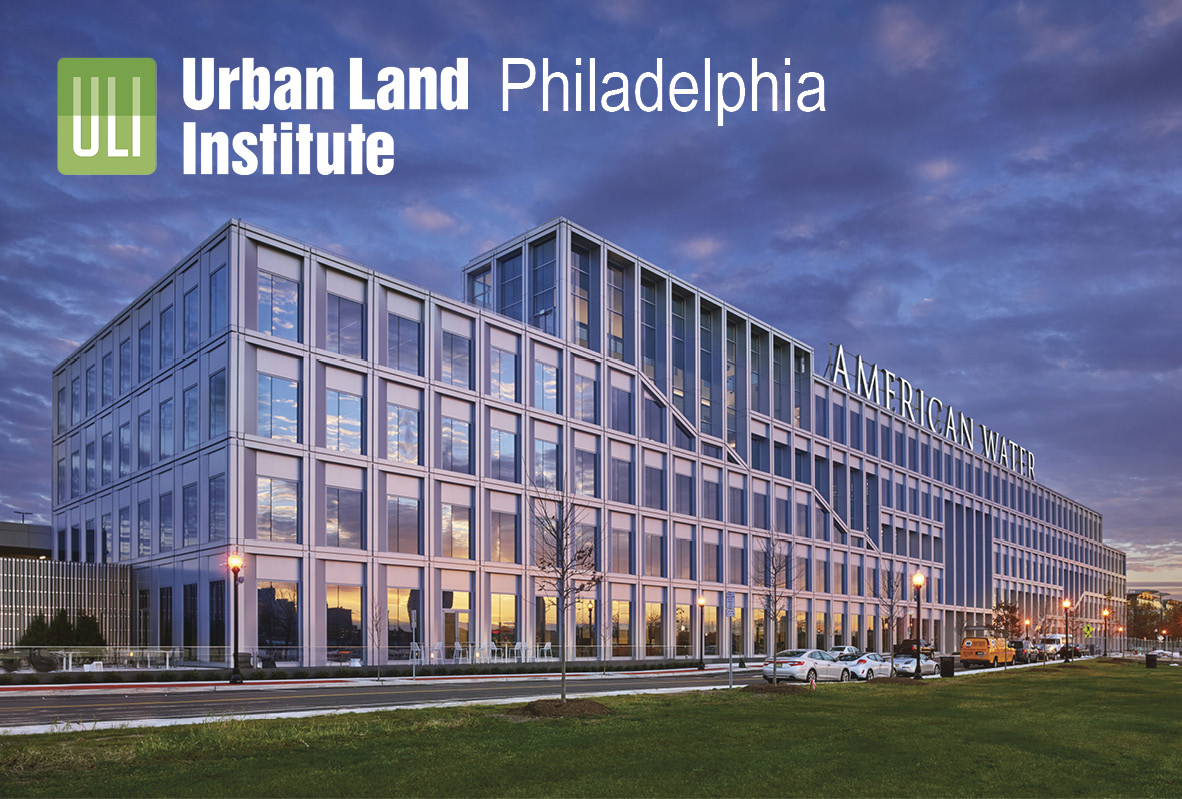 The Philadelphia Chapter of the Urban Land Institute has announced that Robert A.M. Stern Architects' new Camden headquarters office building for American Water has been honored with this year's William G. "Bill" Rouse III Award for Excellence, in recognition of Excellence in Community Impact, Sustainability, and Contribution to the Public Realm. Developed by Liberty Property Trust, the five-story building is the centerpiece of Robert A.M. Stern Architects' master plan for a vibrant, mixed-use Camden Waterfront, with pedestrian-friendly streets and a network of open spaces that will reconnect downtown Camden with its historic riverfront.
Central to the building's design is its transparent four-story atrium, illuminated by a skylight and crisscrossed by upper-level bridges, which frames views from Camden's Cooper Street through to the new riverfront park and the Philadelphia skyline across the Delaware River. A lantern at the north end of the building signals a gathering space adjacent to the building's fifth-floor training and conference facilities, opening to a large roof terrace. Co-working and community spaces are incorporated throughout the building. Metal-and-glass facades recall the site's industrial past, boldly expressing the traveling stair that will foster face-to-face interaction throughout the dynamic workplace. At night, both the lantern and the stair glow, giving the building a strongly identifiable profile when viewed from Philadelphia's riverfront. A large-scale sign atop the building, a statement of corporate and civic pride in this important setting, is also legible from across the river, its scale and frankly expressed scaffolding again recalling the site's industrial heritage. Landscaped plazas open at the building's north and south ends, and parking on an adjacent block is largely screened behind a hotel and a neighboring office building. Partners Robert A.M. Stern, Meghan McDermott, and Graham Wyatt led the design effort. Kendall/Heaton Associates served as Associate Architect.
Modeled to complement the ULI Global Awards for Excellence, the ULI Philadelphia Rouse Award winners represent excellence in regional land use developments that achieve scale, create significant community impact, elevate real estate standards, and signify models of innovation and leadership. The Awards for Excellence recognize the full development process of a project, not just its architecture or design. For more information, please click here.