News
October 28, 2016
DePauw University Dedicates New Hoover Dining Hall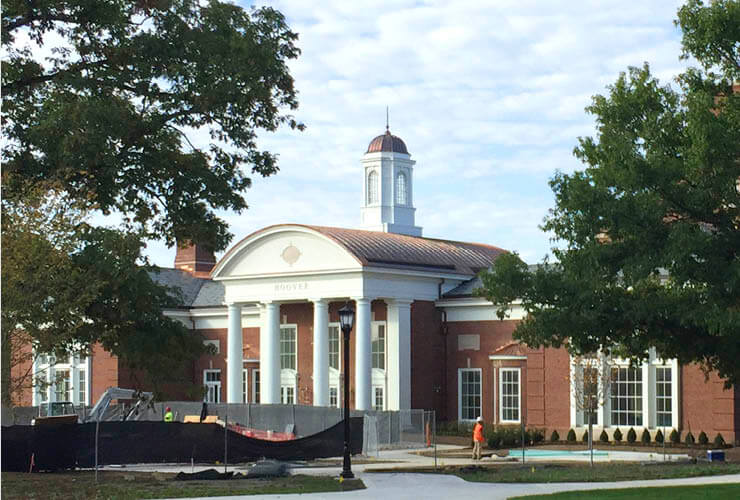 Today DePauw University dedicated the new R. David and Suzanne A. Hoover Dining Hall.
Replacing an existing inadequate dining hall that blocked the view to DePauw's signature 1883 East College building from Bowman Park, the new Hoover Dining Hall offers seating for 750 in a single-story, 50,000-gross-square-foot building. Our new building carries forward the character of older Georgian buildings on campus, manifested in waterstruck red brick, Indiana limestone, and painted wood trim. When the reconfiguration of the Memorial Student Union Building is completed, the two buildings will bound a new landscaped mall framing a view to the East College building from Hanna Street.
Hoover Hall's main dining room seats 460, with an additional 112 seats in a mezzanine. The Wallace-Stewart Commons accommodates faculty and staff dining and also acts as the University Board of Trustees' meeting room. Four special dining rooms seat groups from 12 to 50. Clear lines of circulation bypassing the dining rooms in both east-west and north-south directions integrate Hoover into the daily rhythms of campus life.
The new building was made possible by a collection of gifts from DePauw alumni. R. David and Suzanne A. Hoover, who met at DePauw and graduated from the University in 1967, provided the lead gift to support the construction effort. "Seeing it tonight, it's even better than we expected," Mr. Hoover said. "We hope and expect it to be a place where people connect, communicate, build relationships, and improve and strengthen DePauw's culture."
Sarah R. and John H. Wallace, both 1976 graduates of DePauw, and James B. Stewart '73 made a joint commitment that supported the creation of the faculty and staff dining room.
"It is remarkable to think of the ways this building will shape DePauw," said Dr. D. Mark McCoy, President of DePauw University. "How many students, like Dave and Suzanne Hoover, will meet their lifelong companion within these walls? How many times will a professor start a conversation over a meal that completely changes the trajectory of a student's life? How many friendships will be made and deepened here? How many problems solved? How many questions answered? How many imponderables will be pondered within these walls? Such moments are the fabric of the rich and rewarding DePauw experience, and now have a home."
Melanie J. Norton, Vice President of Development and Alumni Engagement, said, "This magnificent building fills a purpose far beyond food or shelter: it invites a new heartbeat to the center of campus and changes the way those who live and learn here will connect and collaborate. It will feed us in ways beyond the obvious and its influence will be felt for generations to come."
RAMSA Partners
Robert A.M. Stern
,
Graham S. Wyatt
, and
Preston J. Gumberich
led the design.