News
March 23, 2018
Groundbreaking Ceremony for the Charles R. Jonas Courthouse Annex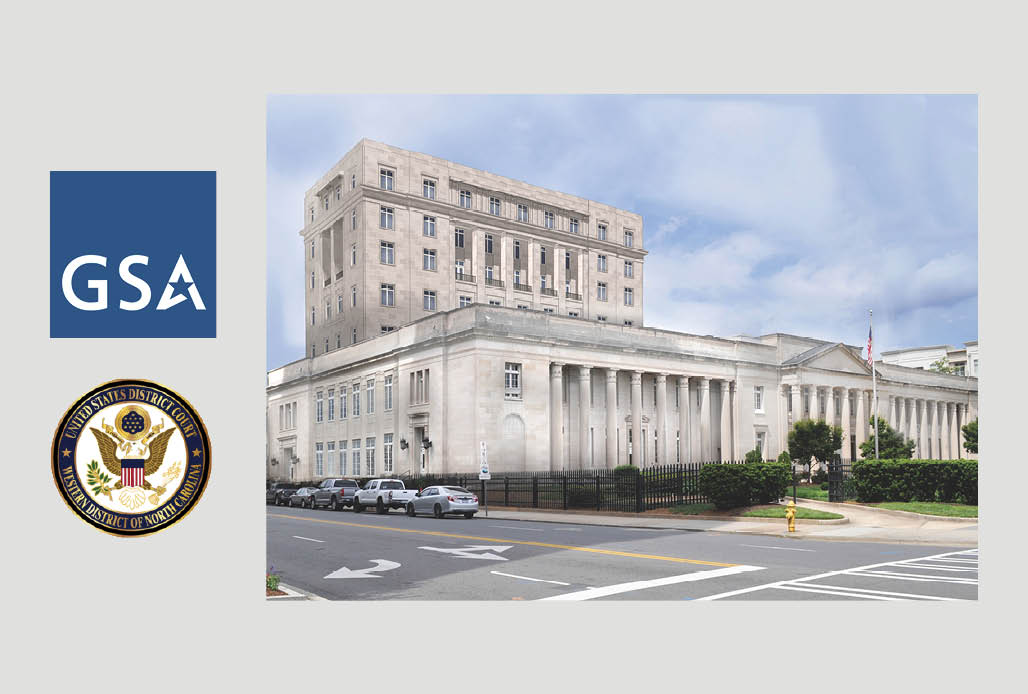 Today the Board of Judges for the Western District of North Carolina celebrated the groundbreaking of the new annex to the historic Charles R. Jonas Federal Courthouse in Charlotte and the start of renovations to the existing building on its 100th anniversary.
The sensitive renovation of the historic courthouse, originally built as a post office in 1915 and expanded in 1932, and the addition of a new eight-story annex will provide the facilities required for modern-day court proceedings while carrying forward the Classical architectural tradition that has expressed the dignity of the courts since the early days of the Republic. Our new annex will defer to the existing building at the street, retaining the ceremonial entrance on West Trade Street and the historic lobby and gallery; a new light-flooded double-height stair hall featuring what is now the southwest facade of the Jonas Courthouse will connect new to old. The eight-story annex will for the first time give the Jonas Courthouse a presence on the Charlotte skyline.
"We have given the Jonas Courthouse Annex a mannered, dignified expression that carries forward the Classicism of the existing building, rendered in precast concrete to match the coloration of the Jonas limestone," said Grant Marani, Partner at Robert A.M. Stern Architects. "As a large-scale civic gesture, our design will reprise the portico of the existing courthouse as a double-height loggia on the annex. It is our intention that this tower will symbolize as never before the role of the Federal Courts in the civic life of Charlotte and of the Western District of North Carolina."
RAMSA Partners Robert A.M. Stern and Grant F. Marani lead the design team, with Jenkins Peer Architects serving as associate architect and Ricci Greene as court design consultant. The Jonas Courthouse is a project of the U.S. General Services Administration's Design Excellence Program.