News
June 21, 2019
Johnny Cruz Named Partner of Robert A.M. Stern Architects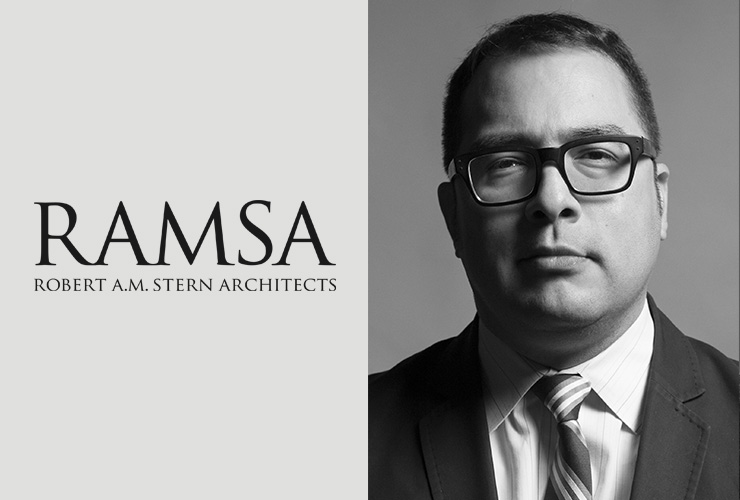 The Partners of Robert A.M. Stern Architects are pleased to announce that Johnny Cruz is now a Partner of the firm.
Mr. Cruz has been with Robert A.M. Stern Architects since 1996. Notable past projects include the Santa Monica UCLA Medical Center in California; The Alexander in Philadelphia; The Century in Los Angeles; and the Caruthers Biotechnology Building at the University of Colorado at Boulder. His current projects include residential towers in Minneapolis and Vancouver.
"The best way to grow and replenish Robert A.M. Stern Architects is from within the firm," said Partner Roger H. Seifter in announcing the news. "In so doing we acknowledge the talents that underlie the quality of our work, we sustain and amplify the energy that creates it, and we provide a clear direction for professional advancement at RAMSA."
"Johnny has distinguished himself as a design leader with a resume of over sixty projects to date," Mr. Seifter said. "Johnny brings to his projects a deep understanding of the way we look at the design of buildings and a unique ability to conceptualize, which, combined with his impressive technical skills, allows him to generate and lead the design through an immersive process involving hand sketches, substantive and constructive criticism, and computer modeling. He has been an enthusiastic mentor to his teams and, on a broader scale, an active and sought-out participant in the RAMSA Mentorship program."
Mr. Cruz received his Bachelor of Architecture degree from the University of Notre Dame and upon graduation attended The Prince of Wales's Institute of Architecture European Summer School in St. Petersburg, Russia. Mr. Cruz received his Master of Architecture from Yale University, where he was awarded the Carroll L.V. Meeks Scholarship. He is a registered architect in the State of New York and a member of the American Institute of Architects, the Congress for the New Urbanism, the Urban Land Institute, and the Regional Plan Association.