News
July 14, 2016
Liberty Property Trust and American Water Agree to Develop Corporate Headquarters in Camden, New Jersey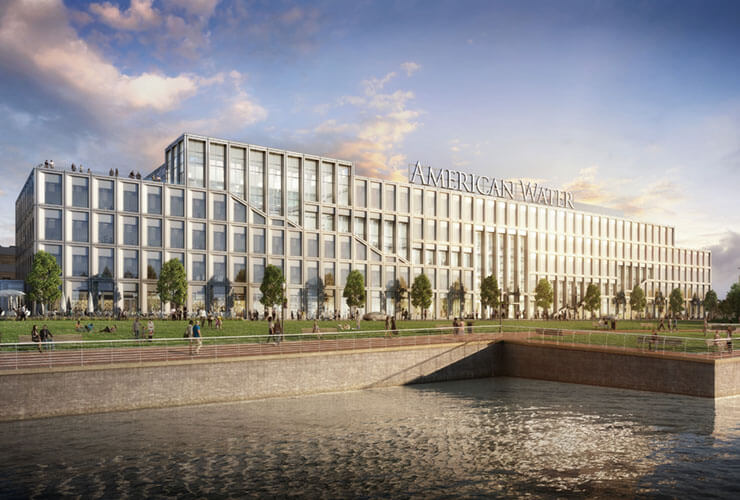 Liberty Property Trust today announced that it has signed an agreement for the development of American Water's new corporate headquarters in Camden, New Jersey. The building, to be known as One Water Street, is designed by Robert A.M. Stern Architects to encompass more than 222,000 square feet of office space in an innovative five-story metal-and-glass building that will frame views to the river and the Philadelphia skyline.
The anticipated development represents the inaugural commercial development in Liberty's vision for The Camden Waterfront, a $1 billion, 20-acre mixed-use development planned by Robert A.M. Stern Architects. Construction of the building and adjacent parking garage is slated to begin this fall subject to the completion of Liberty's due diligence, and acquisition of, The Camden Waterfront site. The new building is expected to be complete the second half of 2018.
"American Water's decision to relocate to The Camden Waterfront is an important step forward in helping to realize this key development for the future of Camden," said John Gattuso, regional director and senior vice president for Liberty's metro region. "We are delighted that American Water shares Liberty's vision and wants to be at the forefront of this redevelopment."
"I can think of no better place for the nation's largest publicly traded water utility company to locate its headquarters than on the waterfront of a city it proudly serves," said Susan Story, President and CEO, American Water. "Liberty's plan for The Camden Waterfront will be transformative for the city of Camden, and as the provider of water and wastewater services to its residents, we want to be a part of this exciting development."
Robert A.M. Stern Architects' previous collaborations with Liberty Property Trust include headquarters and office buildings for
Comcast
and
GlaxoSmithKline
in Philadelphia and for
PPL
in Allentown, Pennsylvania.
RAMSA partners
Robert A.M. Stern
and
Meghan L. McDermott
are leading the design of One Water Street.