News
January 14, 2016
RAMSA's Fitness and Aquatics Center Wins ICAA New England Bulfinch Award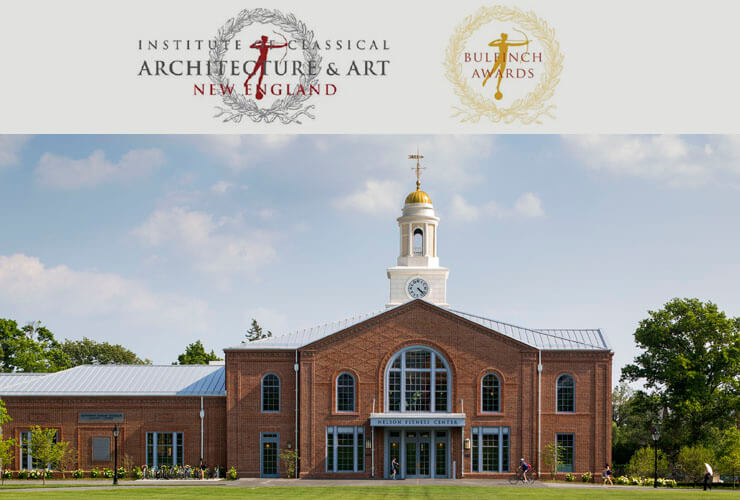 The New England Chapter of the Institute of Classical Architecture and Art announced that the Fitness and Aquatics Center at Brown University is the winner of a 2016 Bulfinch Award.
The Fitness and Aquatics Center brings the architectural character of Brown's historic brick buildings to the northeastern edge of the campus, while also acknowledging Providence's tradition of robustly classical industrial buildings. Completed in 2012, the building provides much-needed athletic facilities and a new quadrangle at the gateway to Brown's evolving Erickson Athletic Complex. The landscaped Ittleson Quadrangle replaces the parking lot between the new and existing buildings. The roof of the Fitness and Aquatics Center features the largest hybrid solar-powered electrical and heating installation in the United States at the time of its completion. The system generates enough photovoltaic electricity to keep the lights on and enough thermal energy to heat the Center's million-gallon pool.
Named for Boston architect Charles Bulfinch (1763-1844), America's first native-born architect and the designer of the Massachusetts State House, the awards recognize the best work of individuals and firms to preserve and advance the classical tradition in New England. The ICAA New England Chapter promotes the mission of the Institute within the six New England States through four program areas: education, publications, awards, and advocacy.
RAMSA partners Robert A.M. Stern and Gary L. Brewer led the design. For more information about the ICAA New England Bulfinch Awards, please
click here
.