News
May 8, 2018
RAMSA's Matthew Blumenthal, Patrick Alles, and Megan Zhang Win 2018 Driehaus Competition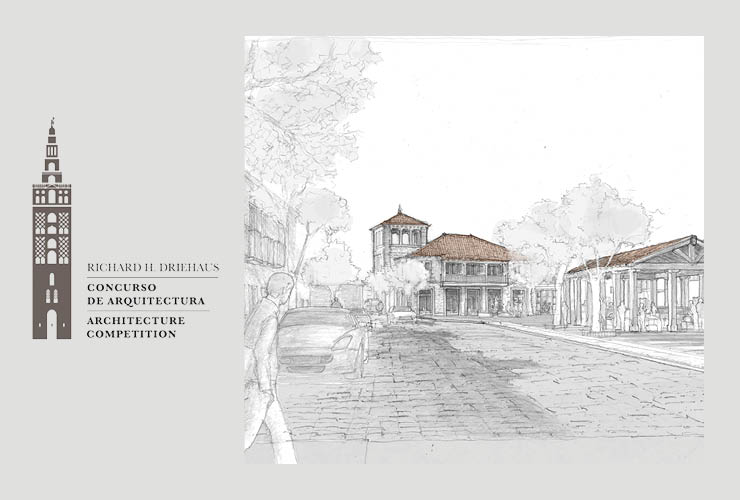 The Richard H. Driehaus Architecture Competition today announced that the entry by RAMSA's Matthew Blumenthal, Patrick Alles, and Megan Zhang has been selected as a 2018 winner.
Competition entrants were asked to develop a scheme for an urban site in one of four jury-selected Spanish municipalities—Borox, Trujillo, Jaca, and Baza—to serve as a model for future civic improvement and provide ideas for restoring the town's prewar fabric and traditional architectural character. For Borox, a town in Spain's Toledo region, the brief called for reconceiving two of the town's main buildings—a senior day center and a municipal library—along Avenida Piedad Colón, a central north-south axis. Mr. Blumenthal, Mr. Alles, and Ms. Zhang proposed achieving urban unity by reorganizing traffic along the street to create an enlarged market square and building a new senior day center at the square's southeast corner, raising a tower element that stands in dialog with the nearby cathedral, linking two important public spaces. From the enlarged market plaza, a proposed allée of relocated trees leads north along the Avenida toward a reimagined municipal library facing a second new public square. By carrying forward the traditional architectural vocabulary of the town—the proposed new buildings are grounded in the local palette of rubble-stone facades, cut-stone window and door surrounds, and ceramic tile roofs—and creating an urban plan that unites important public spaces, the proposal respects and elevates the existing urban fabric of Borox. For more information on the proposal, please click here.
The Richard H. Driehaus Architecture Competition is an international competition created to help preserve and revive the use of local architectural traditions. It awards and promotes proposals that uphold local architectural traditions, foster a sense of place, and contribute to the creation of beautiful, sustainable, and socially integrated towns. Designs that use materials and building techniques of a town's region and prioritize traditional solutions are encouraged. Awarded proposals are intended to serve as models for urban and architectural designs that are sensitive to traditional architecture and committed to preserving Spanish cultural heritage. For more information on the competition, please click here.