News
March 4, 2015
University of Nebraska-Lincoln Breaks Ground on College of Business Administration Building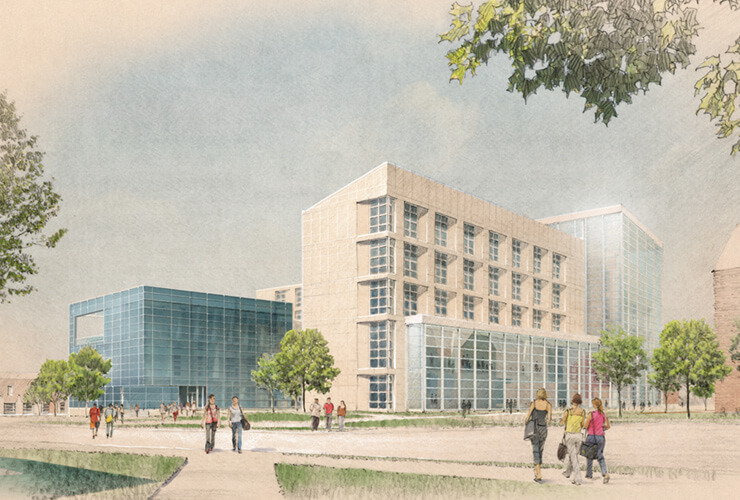 Today the University of Nebraska-Lincoln broke ground for its new College of Business Administration (CBA) building.

The new building will accommodate the CBA's growing population, providing space for 5,000 business students. The five-story, 240,000-square-foot building will include two auditoriums and large classrooms on the lower level; student support services and additional classrooms on the first floor; and a graduate wing and undergraduate classrooms on the second floor. The public face of the building will be a glass-clad cube at the corner of 14th and Vine Streets, displaying the College's showcase spaces and creating a ceremonial entrance. Framing the cube, offices and classrooms will be stacked in two masonry-clad wings flanking a central four-story atrium that runs the full length of the building. The new building is expected to be ready for the 2017-18 school year.

"The new facility will allow us to grow in ways that otherwise could not happen and become a central hub of business education for this campus and for the Nebraska business community," said Donde Plowman, the College's Dean. Plowman said the CBA building would become "the heart of the campus" at its new location. "This project is a testament to our alumni's generosity and the strength of our college's community," she added.

"The new building is a great opportunity to create a 21st-century learning environment that will help us attract the best and the brightest," said Capital Campaign Chairman Tonn Ostergard. All funds for the project were donated.

RAMSA Partners Robert A.M. Stern, Melissa DelVecchio, and Graham S. Wyatt led the design effort. Alley Poyner Macchietto serves as the Associate Architect.