Events
October 25, 2016
RAMSA Partners Graham S. Wyatt and Melissa DelVecchio to Present Project Soane in London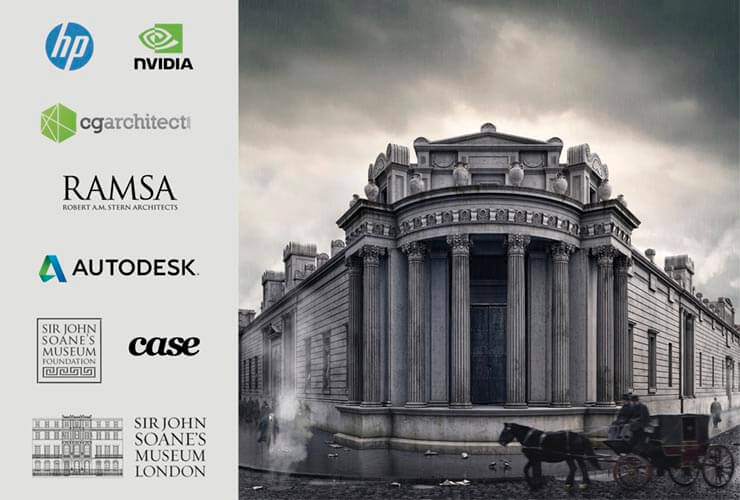 The Banking Hall
14 Cornhill
London, UK
EC3V 3ND
RAMSA Partners
Graham S. Wyatt
and
Melissa DelVecchio
will present Project Soane, a digital reconstruction of Sir John Soane's demolished Bank of England, to journalists and design firms at events at The Banking Hall, which overlooks the Bank of England, on October 25. Attendees will have the opportunity explore detailed virtual reality reconstructions of the architectural masterpiece.
Mr. Wyatt, always interested in the application of digital technology to traditional forms, conceived Project Soane as a two-phase competition that launched in July 2015: the first phase a crowd-sourced building information modeling (BIM) effort to reconstruct Soane's Bank of England, and the second a rendering and visualization competition based on the phase one models.
"The demolition of Soane's Bank of England was one of the great architectural crimes of the twentieth century, and recapturing what it was like to walk through its spaces has become a persistent dream for me and many others," said Mr. Wyatt. "The quality of the Project Soane renderings is inspirational, and the animations and virtual reality models provide the 'you-are-there' experience that I had dared to hope was possible. I'm confident Sir John Soane would have been impressed."
Added Melissa DelVecchio, "Since the demolition of Soane's Bank of England, generations of architects have experienced Soane's masterpiece only through photographs and the Sir John Soane's Museum's collection of drawings. It was our hope that Project Soane would put these disconnected puzzle pieces back together and capture the imagination and attention of practicing architects and scholars worldwide. And that's exactly what it did."
Mr. Wyatt and Ms. DelVecchio served as jurors for the competition.
"The destruction of Soane's Bank of England was such a tragedy for architecture; resurrecting it is a great way to showcase what can be achieved with today's technology," said Sean Young, Worldwide Segment Manager, Product Development & AEC at HP. "At HP, we've brought together a number of market leading partners including NVIDIA, Autodesk, CGarchitect and Robert A.M. Stern Architects (RAMSA), who all provided expertise to help make this happen."
"We were delighted to collaborate on this historic project," said Jason Southern, NVIDIA Leader for Professional Visualisation in EMEA. "The incredible detail and artistry achieved by the winning entries really showcases the power that our Quadro professional graphics platform brings to design workflows. The ability to virtually experience a masterpiece that was destroyed almost 100 years ago with such realism is truly breath-taking."
For more information on Project Soane, please
click here
.