News
February 27, 2017
American Water Breaks Ground on Headquarters Building at One Water Street in Camden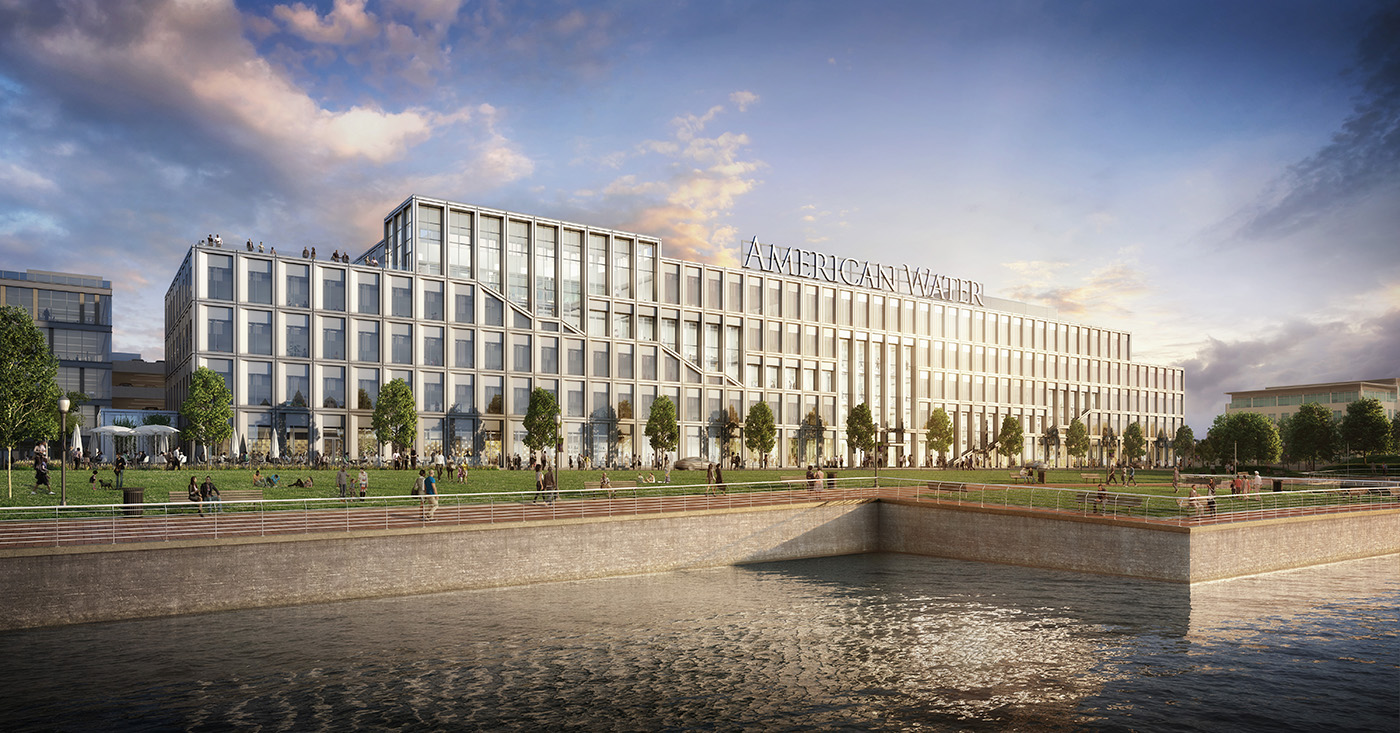 American Water held a groundbreaking ceremony today for the company's new headquarters at One Water Street on the Camden Waterfront. When completed in 2018, the five-story, 220,000-square-foot facility will house more than 600 employees, consolidating operations now in four different locations in southern New Jersey.
"American Water and our employees are excited about our new home on the Camden Waterfront," said Susan Story, president and chief executive officer of American Water. "We know this will be a place where we can become an even stronger presence in this great city; where we can attract and develop talent for today and the future; and where we can develop solutions to challenges for clean, safe, reliable, and affordable water and water services for people across the country. Ms. Story was joined by U.S. Rep. Donald Norcross; Dana Redd, Mayor of Camden; Bob Martin, Commissioner of the New Jersey Department of Environmental Protection; Tim Lizura, President and Chief Operating Officer of the New Jersey Economic Development Authority; and more than 150 guests.
One Water Street represents the inaugural commercial development in developer Liberty Property Trust's vision for The Camden Waterfront, a $1 billion, 20-acre mixed-use development planned by Robert A.M. Stern Architects. "The significance of this moment is twofold," said Liberty Property Trust Chairman, President, and Chief Executive Officer William Hankowsky. "Today we not only celebrate breaking ground on American Water's new corporate headquarters, but also recognize this is the very first step in establishing the Camden Waterfront as a thriving and dynamic community." The office component of the development will consist of build-to-suit projects for corporations, and Liberty Property Trust is working to put in place additional pieces of the Camden Waterfront, including a proposed 180-room Hilton Garden Inn to be developed by Ensemble Real Estate Solutions and 188 residential units for which an agreement is pending with The Michaels Organization. Over $8 million is planned to be invested in the reconstruction and enhancement of the existing waterfront park.
With a history dating back to 1886, American Water Works Company, Inc. is the largest and most geographically diverse publicly-traded water and wastewater utility company in the U.S. The company employs more than 6,700 dedicated professionals who provide regulated and market-based drinking water, wastewater, and other related services to an estimated 15 million people in 47 states and Ontario, Canada. More information can be found at
www.amwater.com
.
Liberty Property Trust is an $8.5 billion real estate investment trust that owns 99 million square feet of industrial and office space throughout the United States and the United Kingdom (as of December 31, 2016). Founded in 1972 and headquartered outside of Philadelphia, Liberty develops, acquires, leases and manages properties with the mission to enhance people's lives through extraordinary work environments. Robert A.M. Stern Architects' previous collaborations with Liberty Property Trust include headquarters and office buildings for Comcast and GlaxoSmithKline in Philadelphia and for PPL in Allentown, Pennsylvania.
RAMSA partners
Robert A.M. Stern
and
Meghan L. McDermott
are leading the design of One Water Street.