News
November 21, 2017
Barkli Residence Wins European Property Award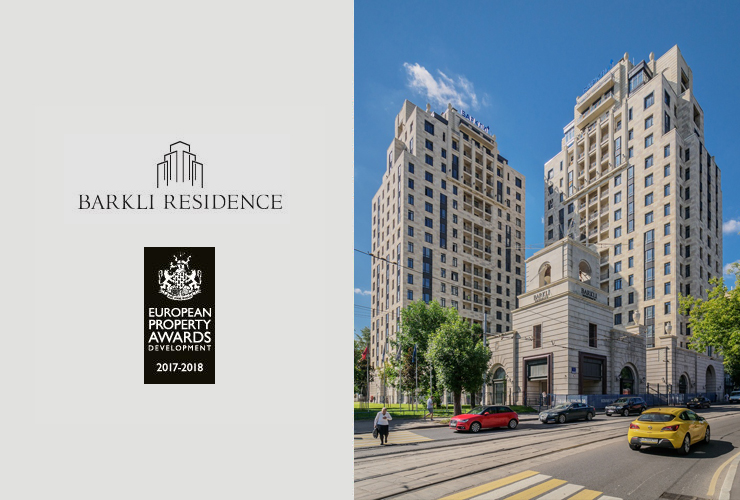 The
Barkli Residence
in Moscow, Russia—a development of the Moscow-based Barkli Corporation—has been recognized with a 2017 European Property Award. RAMSA Partners
Robert A.M. Stern
and
Kevin M. Smith
led the design effort, working in association with Barkli Engineering, Ltd. Offering 154 apartments in a residential neighborhood southwest of Moscow's city center, the development comprises two towers—one 17 stories and the other 18—that define a motor court and a raised garden court; shopfronts along Ordzhonikidze and Roshinsky Streets weave the buildings into an active pedestrian streetscape. Pilasters, cornices, bay windows, balconies, and loggias articulate the stone-clad towers, which rise through a series of setbacks to culminate in decorative crowns, recalling Moscow's tradition of elaborate silhouettes that punctuate the skyline. For more information about the project, please click here.
Aleksander Krasavin, First Vice-Chairman of the Barkli Corporation, accepted the award at an October 26 ceremony at London's Lancaster Hotel. "This award is recognition at the international level and is an indicator of the high class level of our buildings in all aspects of construction, from site selection to architectural solutions," said Mr. Krasavin.
The European Property Awards are the leading award for the European market in the field of residential and commercial real estate. The awards are part of the International Property Awards, founded in 1995 to celebrate the highest levels of achievement by companies operating in all sectors of the property and real estate industry. For more information about the awards program, please click
here
.