News
October 30, 2017
Benjamin Franklin College and Pauli Murray College at Yale University Win Stanford White Award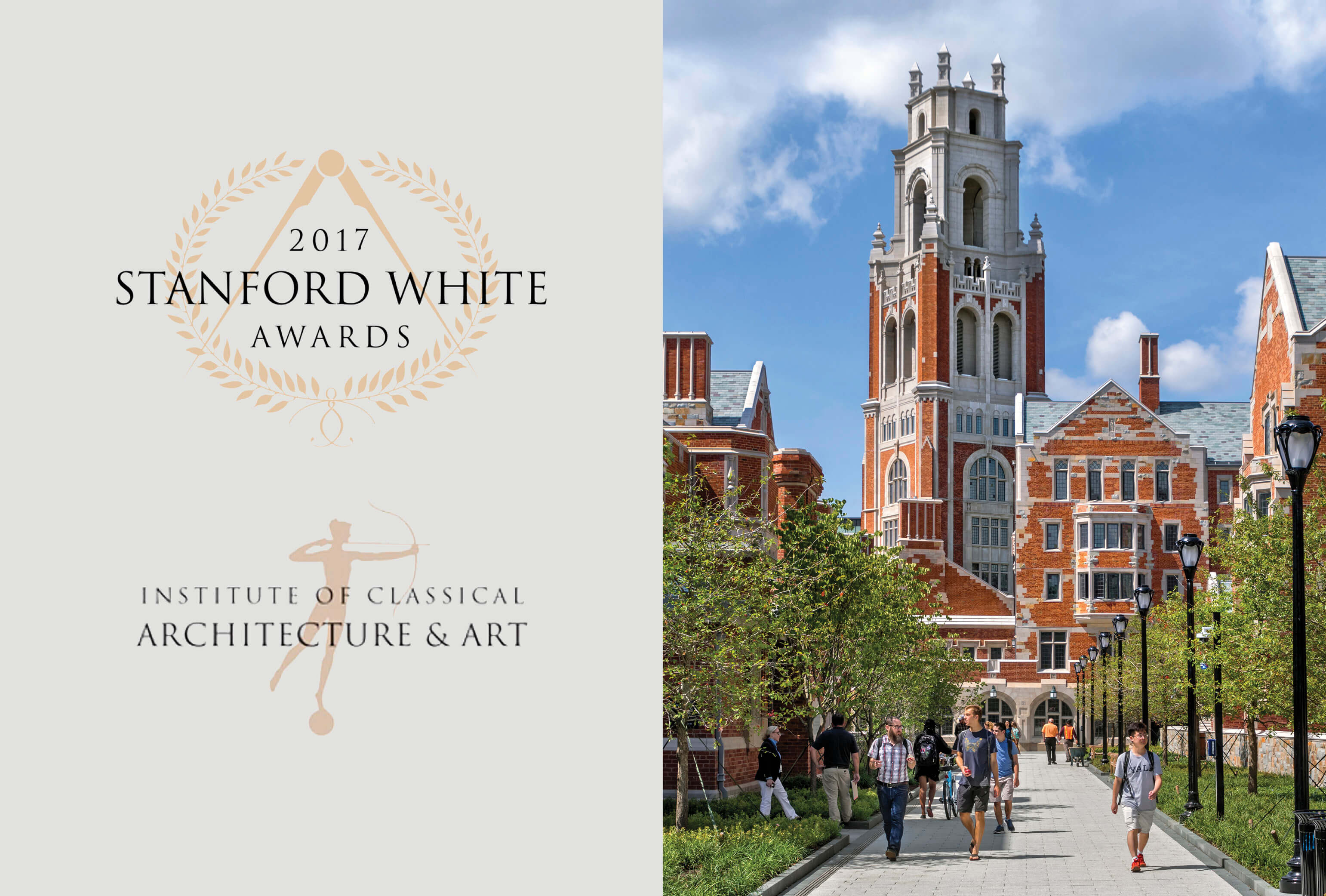 The Institute of Classical Architecture and Art today announced that Robert A.M. Stern Architects' two new residential colleges at Yale University have been awarded a 2017 Stanford White Award. RAMSA Partners
Robert A.M. Stern
,
Graham S. Wyatt
,
Melissa DelVecchio
, and
Jennifer L. Stone
led the design effort.
Benjamin Franklin College and Pauli Murray College, Yale's first new residential colleges in fifty years, carry forward the Collegiate Gothic style established by architect James Gamble Rogers between the two world wars. The Rogers-designed colleges were organized as quadrangles around variously sized courtyards, and in their totality achieved a finely calibrated urbanism comparable to that of England's Oxford and Cambridge universities. The two new colleges, housing 452 students each on a triangular 6.2-acre site bisected by Prospect Walk, a landscaped public pedestrian way, are conceived as fraternal twins, similar in size but each enjoying its own identity, and each incorporating a 300-seat dining hall, a library, student recreation spaces, and a house for the Head of the College, and each maintaining the traditional organization of entryways that create small communities of students within the larger whole. Facades of hand-set brick in a tricolor blend are accented by buff limestone and granite, while a variety of bay windows, dormers, towers, and other features differentiate the building masses and articulate nine quadrangles. Echoing Roger's environmentally responsive massing, building heights rise from north to south to allow for maximum sunlight in the courtyards, which are linked by sixteen unique stone-and-brick-lined passageways. The new colleges add to Yale's skyline with a variety of dramatically modeled towers that include the 192-foot Edward P. Bass Tower, visually collapsing the distance between Yale's Central Campus and the precinct of Science Hill to the north. For more information on the project, please click
here
.
The Sixth Annual Stanford White Awards for Excellence in Classical and New Traditional Design recognize achievement in individual projects in architecture, interiors, landscape, urbanism, and building craftsmanship & artisanship throughout New York, New Jersey, and Fairfield County, Connecticut. The awards program is named in honor of Stanford White (1853-1906), of the distinguished New York firm McKim, Mead & White, whose legacy of design excellence and creativity in architecture and the related arts continues to serve as a source of inspiration and delight. The awards ceremony will be held on Wednesday, December 6, 2017 at the Metropolitan Club in New York City. For more information and to purchase tickets, please click
here
.