News
June 5, 2017
"Hand, Eye & Brain: A Gallery of Design Sketches by RAMSA Staff" Opens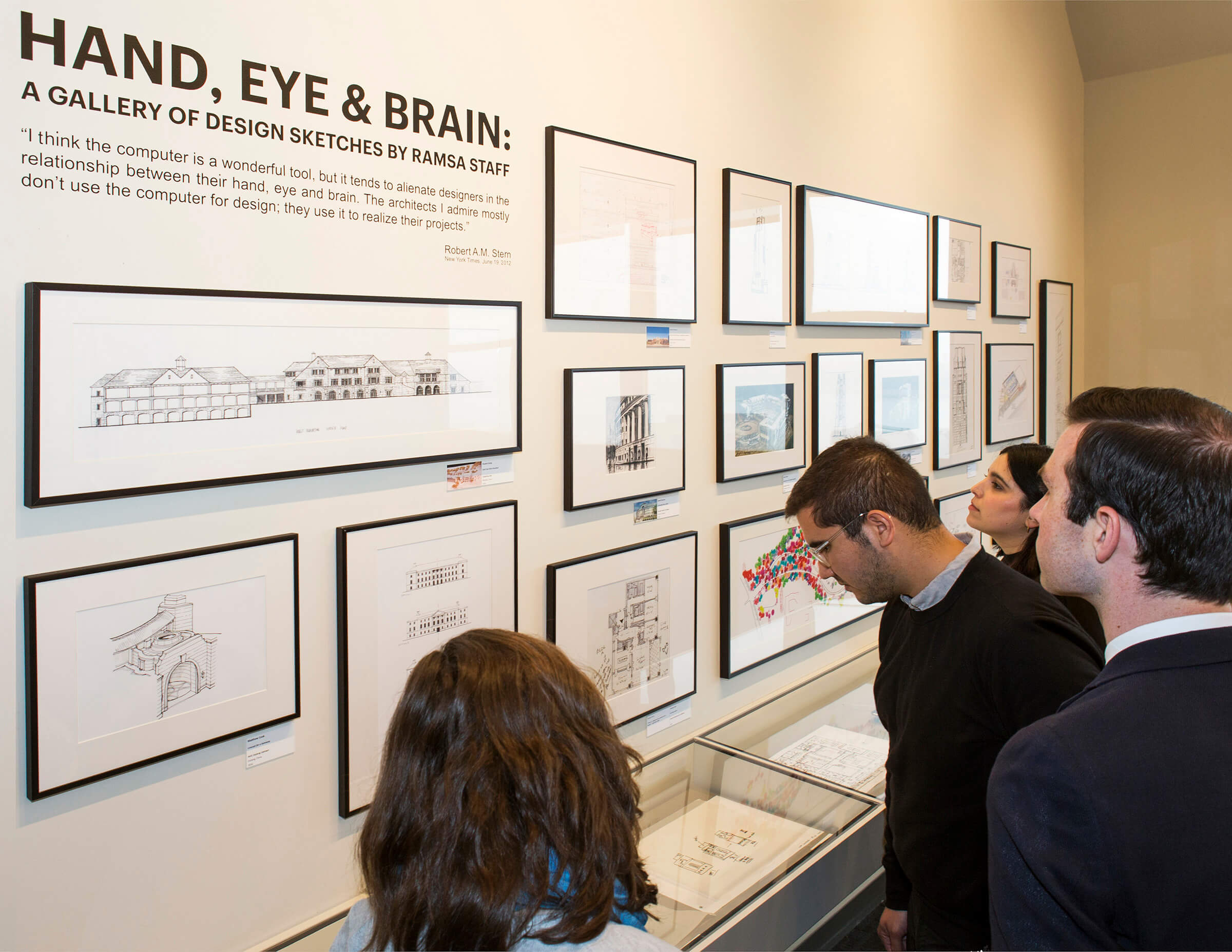 Today Robert A.M. Stern Architects celebrated the opening of Hand, Eye & Brain: A Gallery of Design Sketches by Robert A.M. Stern Architects Staff, the second exhibition in its in-house gallery. A 2012 quote by Robert A.M. Stern from The New York Times introduces the show: "I think that the computer is a wonderful tool, but it tends to alienate designers in the relationship between their hand, eye and brain. The architects I admire mostly don't use the computer for design; they use it to realize their products."

Building on the many talents and skills displayed in the previous Sketch Gallery exhibition, Drawing from Experience: A Gallery of Travel Sketches by Robert A.M. Stern Architects Staff, the new show explores hand-sketching as an act of discovery and documentation. The exhibition speaks to the role that hand-sketching plays in the everyday life of the firm, revealing how the sketcher generates, discards, and revisits ideas while posing and answering challenges. "Like single frames pulled from a moving image, the sketches on display here capture the many stages of architectural design, ranging from early concept sketches to presentation graphics to clarifications on shop drawings," said the Sketch Gallery Jury: Kevin M. Smith, Partner; Christopher Heim, Senior Associate; Armando Amaral, Associate; C. Callaway Hayles, Associate; and Huaxia Song. The jury sought to celebrate all aspects of design via hand-sketching, from quick napkin sketches, to analytical diagrams and 3-D details.

The exhibitors are Patrick Alles, Caitlin M. Baransky, Rana Boland, Gary L. Brewer, Christian Dickson, Matthew Cook, Johnny Cruz, Mario Cruzate, Kathleen Donovan, Eric Dorsch, Brian F. Fell, Timothy Galano, Carlos Gamez, Laura Greenberg, William Gridley, Melody Hanna, Christopher Heim, Secilia Jia, Ricardo Kendall, Daniel Lobitz, David Pearson, James A. Pearson, Natalie Pierro, Mason Roberts, Matt Roman, Natalie Ross, Mark Santrach, Tomasz Smierzchalski, Kevin M. Smith, Huaxia Song, Robert A.M. Stern, Paul L. Whalen, Jef Zaborski, and Andrew Zelmer.