News
June 6, 2016
Landscape Forms Introduces Ashbery Lighting Designed by Robert A.M. Stern Architects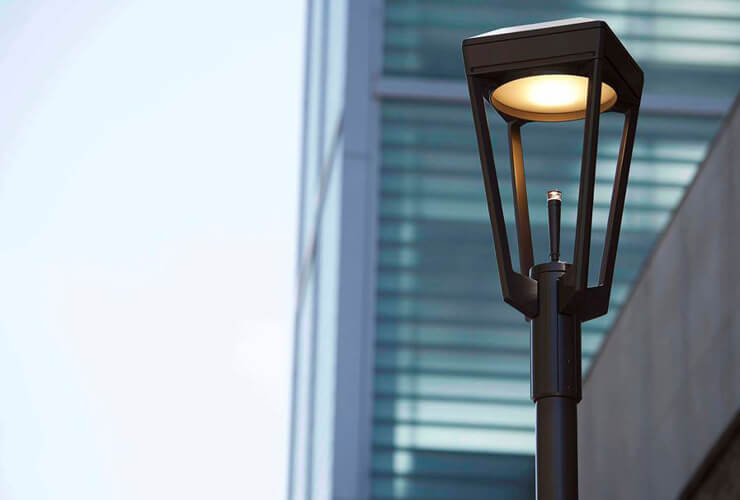 Landscape Forms, North America's leading designer and manufacturer of high-design site furniture, accessories and advanced LED lighting, today announced the debut of a trio of lights created in collaboration with Robert A.M. Stern Architects and Fisher Marantz Stone.
Ashbery brings together LED technology and optics with an homage to traditional-style lights that have a special place in the American lexicon. A separate LED element set within an open metal frame serves as an abstraction of a flame appears to be reflected in the fixtures' primary LED light source, set into the upper housing, to cast beautiful even light.
"We worked with our colleagues at Landscape Forms to offer a suite of fixtures appropriate for towns and cities that want to maintain a connection to traditional character while providing LED-lamped lighting that exceeds contemporary energy-use and output standards," said Daniel Lobitz, AIA, Partner at Robert A.M. Stern Architects. "We looked to the archetypical gas-lamps that illuminated America's streets and parks in the era before electric lighting, not in a naive or romantic way, but rather aiming to reinterpret their purposeful elegance for our own time."
"Ashbery is the next chapter for Landscape Forms LED lighting," explains Richard Heriford, President of Landscape Forms. "This is our largest and most comprehensive family of lights to date. It is designed and engineered to address more outdoor space applications with state of the art function and modern traditional style."
RAMSA Partners
Robert A.M. Stern
,
Alexander P. Lamis
, and
Daniel Lobitz
led the design. For more information about the Ashbery group, please
click here
.