News
September 24, 2015
Liberty Property Trust to Lead Development at the Camden Waterfront, Master Plan by RAMSA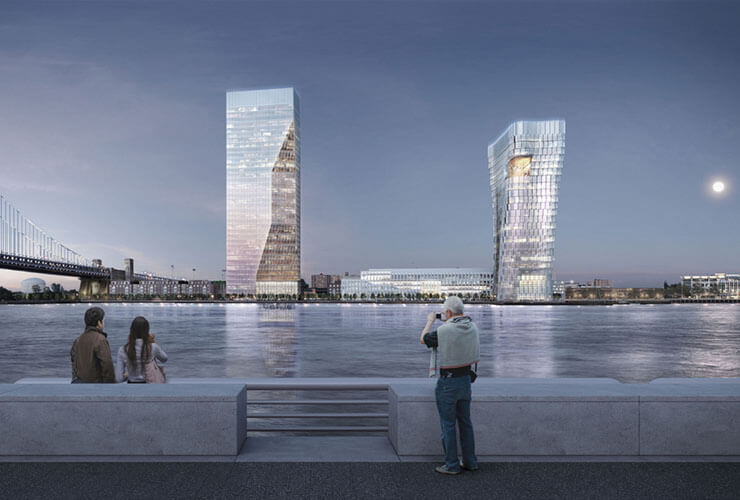 Governor Christie and Camden Business and Community Leaders today announced that Liberty Property Trust will lead development of "The Camden Waterfront," a new $700-$800 million development that will redefine the Camden waterfront by creating as much as 1.7 million square feet of office space and include a hotel, retail and a residential component. The development would be the largest private sector investment in Camden's history, creating thousands of construction jobs and bringing thousands of permanent jobs to the city. Camden Mayor Dana Redd was joined at the 3:00 PM announcement at the Adventure Aquarium in Camden by New Jersey Governor Chris Christie, Bill Hankowsky, Chairman, President & Chief Executive Officer of Liberty Property Trust, renowned architect Robert A.M. Stern, and Richard T. Smith, President of the NAACP New Jersey State Conference.

"The Camden Waterfront' represents a unique opportunity to develop a project of this scale in the center of a major metropolitan area. This visionary project will reshape the central waterfront in a way that will be truly transformative for Camden," said Bill Hankowsky. "Through the Grow NJ program, the state of New Jersey has created an economic development program which has the potential to be truly transformative to the city of Camden. It will create a sustainable, high performance environment that could not only ensure the future of the city but also enhance the competitiveness of the entire Philadelphia region."

Liberty has signed an agreement with Steiner + Associates to purchase Camden Town Center LLC, with the intent to pursue the development of 16 acres of Camden waterfront. If approved by the New Jersey Economic Development Authority, the purchase of Camden Town Center LLC would confer upon Liberty the exclusive right to acquire and obtain approvals for development of the site. Subject to satisfactory completion of a due diligence process, which is expected to last approximately six months, Liberty would complete the purchase of the entity. Liberty could break ground as early as the third quarter of 2016 with occupancy expected in late 2018 and 2019.

Liberty envisions a mixed-use development that will attract major corporations, employment and significant inward investment. Liberty and Robert A.M. Stern Architects have created a master plan for the development. Liberty anticipates the office component of the development will consist of build-to-suit projects for corporations seeking to grow their businesses in this environment and attract their future workforce while taking advantage of the economic benefits offered through the Grow New Jersey program.

In his remarks, Hankowsky added: "We have worked with a group of successful local business leaders over the last several months to shape this project and they will be investing in the various project components as the final plans take shape. Their belief in Camden and their support will help ensure the successful execution of this major development."

The local leaders who have committed to investing in the project either personally or through their firms are George E. Norcross, III, Executive Chairman, Conner Strong & Buckelew; John O'Donnell, President, The Michael's Organization; Sidney Brown, Chief Executive Officer, NFI, and his family; Christopher R. Gibson, Esq., President, Archer & Greiner, P.C.

"The migration of American cities away from centers of manufacturing has posed a challenge few communities have been successful in meeting," said Robert A.M. Stern. "Now here in Camden we are presented with an opportunity to make this city vibrant and viable once again. We are very excited about this chance to collaborate with long-time clients Liberty Property Trust, a developer that has shown the tenacity and creativity these opportunities require, to further transform Camden's waterfront as a public place with a rich mix of new uses that will re-connect the downtown to the riverfront and also capitalize on public investments that have already been realized."

"It's not often one gets to see a city turning around before their eyes and it's all due to an unprecedented cooperation between the state, local government and committed community leaders," said Richard T. Smith, the President of the NAACP New Jersey State Conference. "It took more than commitment though, it required rethinking what Camden could be – it can be a safe city where children go to good schools and parents are able to support their families at good jobs. That is where I believe Camden is headed."

Liberty is committed to working closely with community groups, the Mayor's office, and government organizations to provide, to the fullest extent possible, employment opportunities during development of the project.

In addition, the firms coming to Camden will work with the Department of Labor and the Mayor's office to develop job training programs. The training program will be focused on jobs for businesses that will locate in this new development – office and technology, sales, restaurant, retail and hotel services.

"With this announcement and the critical mass of development that has been reached, what's been going on in Camden can no longer be looked at in isolation, but rather as a plan that will fundamentally change the city's future," said Mayor Redd. "While it might have been hard to see the vision of Camden and Trenton leaders when these programs first began, it is inescapable that Camden has, for the first time in generations, a brighter future. Camden's really coming together."

RAMSA Partners Robert A.M. Stern and Meghan McDermott led the design of the master plan.