News
March 1, 2017
RAMSA's Arris Certified LEED Gold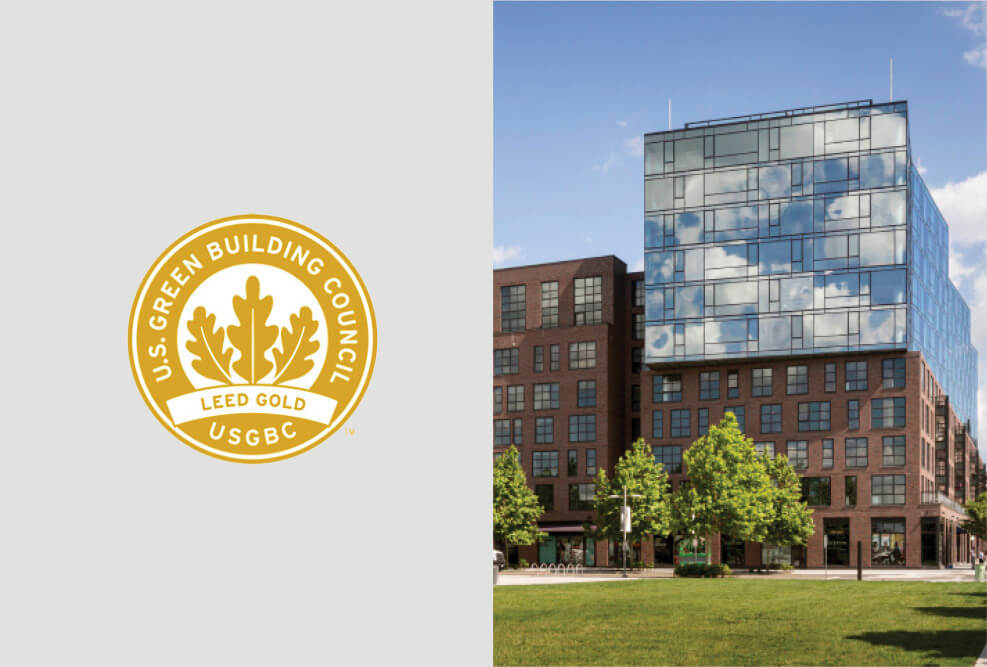 Today the U.S. Green Building Council (USGBC) announced that Arris, a RAMSA-designed residential building at The Yards in Washington, D.C., has achieved LEED Gold Certification.
The 11-story building occupies a prominent site within The Yards development on the former grounds of the Washington Navy Yard Annex, taking design cues from the warehouses and industrial structures of the neighborhood with its brick and glass volumes while expanding the residential and commercial community with 19,000 square feet of retail space and 327 rental apartments offering amenities, light, and views. Sustainability was considered during the building's design with locally sourced materials including brick, concrete, and granite used for the facades and details. Large operable windows with low-e coatings provide fresh air without mechanical assistance, insulating Arris's interiors while maximizing daylight throughout the building. A 23% cost saving was achieved through the use of Energy Star appliances, LED lighting, and low-flow and WaterSense-compliant bathroom fixtures throughout the building. The HVAC system, which responds to specific climatic conditions in the building and allows for individual control, provides maximum comfort and efficiency. The building's vegetated roofs provide insulation, reducing energy consumption for heating and cooling. A cistern mitigates storm water runoff by capturing rainwater, using it to irrigate the water-efficient landscape, decreasing potable water use by 20%. Trees on the building's roof and in the courtyards and mews are located to reduce the heat island effect on site. We chose native plants allowing for a 20% restoration of habitat on the project site area, including the building footprint.
Arris provides short-term and long-term bicycle storage and electric vehicle charging stations are located in the garage. The building's site at The Yards, a walkable 24-hour mixed-use riverfront neighborhood, is located less than a half-mile of public transportation, including subway, bus, and ferry lines, giving Arris a walk score of 79. Sustainable building practices allowed 85% of construction waste to be diverted from landfills.
The USGBC's LEED, or Leadership in Energy and Environmental Design, is the most widely used third-party verification for green buildings, with around 1.85 million square feet being certified daily. LEED works for all buildings—from homes to corporate headquarters—at all phases of development. Projects pursuing LEED certification earn points across several areas that address sustainability issues. Based on the number of points achieved, a project then receives one of four LEED rating levels: Certified, Silver, Gold and Platinum. LEED-certified buildings are resource efficient. They use less water and energy and reduce greenhouse gas emissions.
RAMSA Partners
Robert A.M. Stern
,
Paul L. Whalen
, and
Sargent C. Gardiner
led the design effort. RAMSA was also responsible for the landscape design and the interior design. WDG Architecture served as the associate architect. For more information, click
here
.