News
March 31, 2016
RAMSA's Immanuel Chapel Certified LEED Gold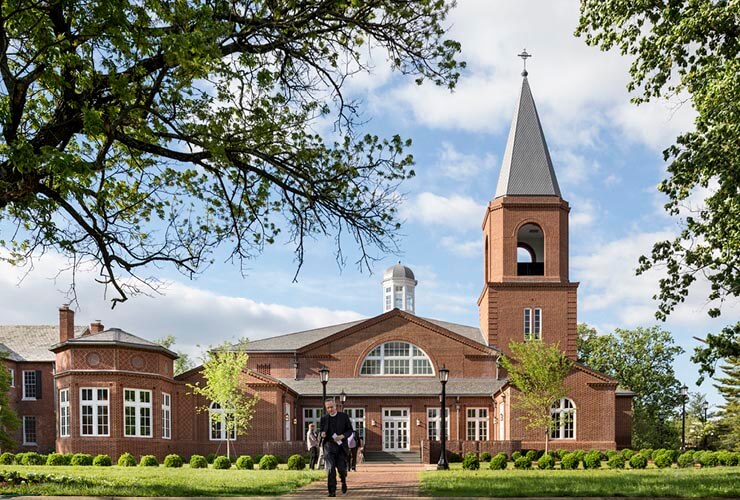 Today the U.S. Green Building Council (USGBC) announced that the
Immanuel Chapel
at Virginia Theological Seminary has achieved LEED Gold Certification.
The chapel serves as a place of worship for the Seminary community, for visitors from throughout the worldwide Anglican Communion, and the local congregation; importantly it also serves as a space to teach seminarians to lead worship. Sustainable design strategies for the Chapel include insulated walls and ceilings; large arched windows that bathe the main sanctuary in indirect natural light; and the use of locally sourced materials including the brick, stone, and repurposed timber. Rainwater runoff from the building and its hardscape is channeled into underground cisterns that irrigate the site's landscaping.
The USGBC's LEED, or Leadership in Energy and Environmental Design, is the most widely used third-party verification for green buildings, with around 1.85 million square feet being certified daily. LEED works for all buildings—from homes to corporate headquarters—at all phases of development. Projects pursuing LEED certification earn points across several areas that address sustainability issues. Based on the number of points achieved, a project then receives one of four LEED rating levels: Certified, Silver, Gold and Platinum. LEED-certified buildings are resource efficient. They use less water and energy and reduce greenhouse gas emissions.
RAMSA Partners
Robert A.M. Stern
and
Grant F. Marani
led the design of the Immanuel Chapel. For more information about the USGBC, please
click here
.