News
May 6, 2015
Robert A.M. Stern Architects Announces Winner of 2015 RAMSA Travel Fellowship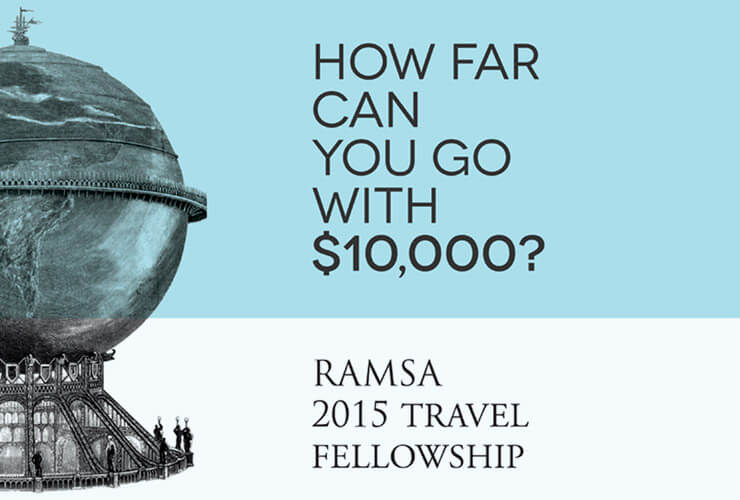 The winner of the 2015 RAMSA Travel Fellowship was announced this evening at an event in RAMSA's New York office.

The winner, Michelle Tianhui Chen, a Master's candidate at the Yale School of Architecture, will be awarded $10,000 to fund travel to India, where she will study the architectural shift from a diverse fabric of expressive design languages to a politically and ethnically neutral vocabulary. "In our world of increasingly ubiquitous gleaming towers, clean in form but cleansed of details, looking to centuries-old traditions might be a means toward reestablishing human attachment to our everyday surroundings," says Ms. Chen. Her proposal promises to "culminate in a book of drawings and text that attempts to chart a path to a more balanced architecture—one which does not forsake cultural expression for a shallow conception of political order."

The jury consisted of three RAMSA Partners: Melissa DelVecchio, Dan Lobitz, and Grant F. Marani. Alexandra Gershuny and Arianne Kouri facilitated the discussion and process.

"Ms. Chen's very strong portfolio shows a clear point of view, and her proposed line of inquiry relates closely to the work she's been doing. It is easy to imagine how her study will help advance her growth as an architect," said the jury. "It was the creativity and poetics of Ms. Chen's proposal that tipped the balance."

The first runner-up proposal, Littoral Urbanism: Vernacular Stilt Architecture Communities as Models for Coastal Living, from Elizabeth Yarina, a Master's in Architecture candidate at the Massachusetts Institute of Technology School of Architecture and Planning, impressed the judges for its clarity. Ms. Yarina proposed visiting "six communities around Southeast Asia that inhabit the water, exploring vernacular models for dealing with high water levels and coastal risks." The jury found her itinerary well researched and the final product thoughtfully considered.

The jury was also impressed by the variety of types of proposals and the range of topics, which included:

- Historic and Contemporary Applications of the Port Typology. Katie MacDonald, Harvard Graduate School of Design.

- Mobility and the Residential Landscape. Kayla Manning, Princeton University School of Architecture.

- Icelandic Turf Building. David Sharratt, University of Texas at Austin School of Architecture.

- Relief: Drawing Depth from Carlo Scarpa and the Mudéjar Tradition. John Kleinschmidt, Yale School of Architecture.

About the RAMSA Travel Fellowship

The RAMSA Travel Fellowship is a $10,000 prize awarded annually by the Partners of Robert A.M. Stern Architects for the purpose of travel and research. More specifically, the Fellowship seeks to promote investigations of the perpetuation of tradition through invention—key to the firm's own work. The prize is intended to nurture emerging talent and will be awarded each year to an individual who has proven insight and interest in the profession and its future, as well as the ability to carry forth in-depth research. The program is open to M.Arch. degree candidates in their penultimate year at 18 schools with which RAMSA has historically strong relationships. In this the program's third year, Ms. Chen was selected from a field of 21 applicants preselected by their educational institutions.

About Robert A.M. Stern Architects

Robert A.M. Stern Architects, LLP, is a 320-person firm of architects, interior designers, and supporting staff. Over its forty-five-year history, the firm has established an international reputation as a leading design firm with wide experience in residential, commercial, and institutional work. As the firm's practice has diversified, its geographical scope has widened to include projects in Europe, Asia, South America, and throughout the United States. The firm maintains an attention to detail and commitment to design quality which has earned international recognition, numerous awards and citations for design excellence, including National Honor Awards of the American Institute of Architects, and a lengthening list of repeat clients. The firm's founder and senior partner, Bob Stern, practicing architect, teacher, and writer, is Dean of the Yale School of Architecture and a Fellow of the American Institute of Architects.