News
May 22, 2019
Courier Square & Line Street Developments Win 2019 CNU Charter Award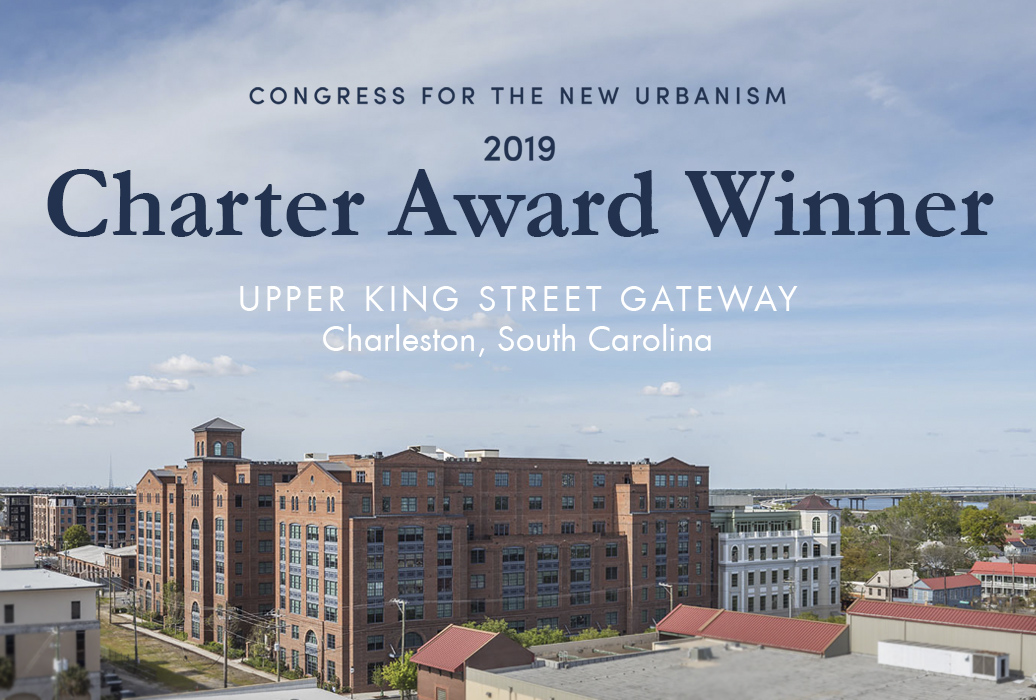 The Congress for the New Urbanism announced today that Robert A.M. Stern Architects' Upper King Street Gateway in Charleston, South Carolina, has been honored with a 2019 Charter Award.
Upper King Street Gateway, designed by Robert A.M. Stern Architects, is a 12-acre development on a once-underbuilt industrial area, bridging two Charleston neighborhoods that were disrupted by an early twentieth-century freight-rail right-of-way and the construction of I-26 in the 1960s. The new Gateway project comprises two distinct developments: Courier Square, developed by Greystar, which combines Greystar's headquarters office building with a residential loft building, the Guild; and the Line Street Development, developed by LC | Lifestyle Communities which will weave together new buildings and repurposed historic buildings. Forty percent of the new residential, retail, and office development will face green space, including the proposed 1.6-mile Low Line. The projects also substantially reinvigorate sidewalks, addressing all the city's parking requirements in structures concealed behind other uses. RAMSA Partners Robert A.M. Stern and Gary Brewer led the design of Courier Square; Kevin Smith joined for the Line Street Development.
"It will be a game-changer for living, working, and playing in the city with its relationship to the Low Line," notes David Ingle, a Charleston real estate broker.
Lynn Richards, President and CEO of CNU, said, "Projects like the Upper King Street Gateway show us how great architecture can actually salvage and repair our past, while moving cities forward to better investment, better community life, and the restoration of green spaces—the city's lungs."
The 2019 Charter awards recognize architecture, planning, development, and landscape designs that offer choices for affordable housing, a lively mix of uses, and public space in a wide variety of settings. The winners—located in 11 states, the District of Columbia, and Puerto Rico; as well in Hong Kong, China, England, and Mexico—will be announced at a ceremony at the Ali Center in Louisville, Kentucky on June 14, during CNU's annual Congress, a 4-day event where 1,500+ people discuss, debate, engage, and advance innovations and strategies in city- and town-building.
The Congress for the New Urbanism (CNU) is a member-based, advocacy organization promoting walkable, mixed-use neighborhood development, sustainable communities and healthier living conditions. Regarded as the preeminent global award for excellence in urban design, the CNU Charter Awards program recognizes a select number projects for excellence in fulfilling and advancing CNU's charter principles, which define the essential qualities of walkable, sustainable places from the scale of the region down to the block and building. For more information, please click here.