News
November 1, 2018
Museum of the American Revolution Wins 2018 Stanford White Award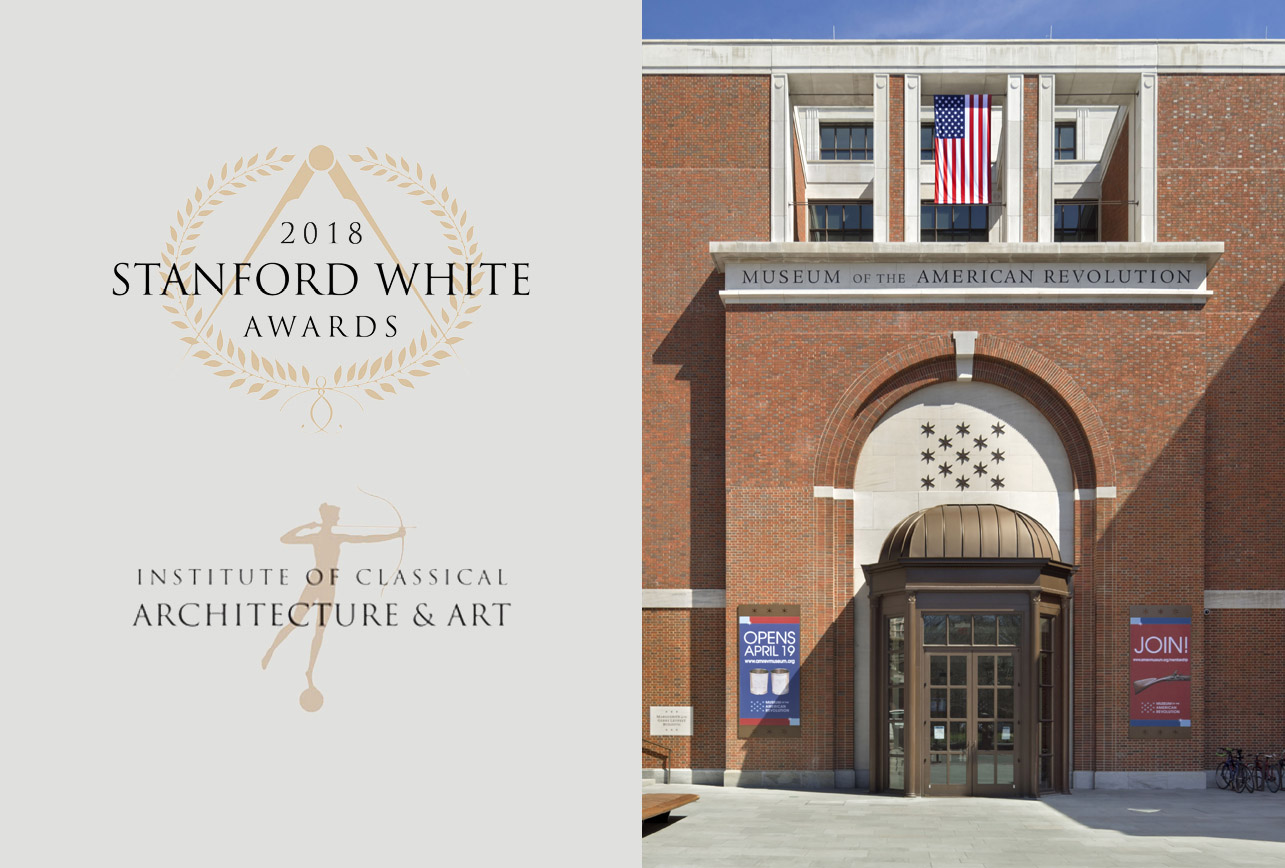 The Institute of Classical Architecture and Art today announced that Robert A.M. Stern Architects' Museum of the American Revolution has won a 2018 Stanford White Award. RAMSA Partners Robert A.M. Stern, Alexander P. Lamis, and Kevin M. Smith led the design effort.
Anchoring the eastern end of Independence National Historical Park, the Museum introduces visitors to the American Revolution with its extraordinary collection of historical artifacts and contemporary interpretations demonstrating the continued worldwide importance of the Revolution. The Museum's restrained Classicism complements its many neighbors of national historical importance, including Independence Hall, Carpenters' Hall, the First Bank of the United States, and the Merchants Exchange; at the same time the building stands as a new, identifiable icon for historic Philadelphia. The Museum has also been acknowledged with an Award of Merit from Engineering News-Record in its 2018 Mid-Atlantic Best Projects competition.
In addition, RAMSA's Coltan Severson (Notre Dame '18), has won the Stanford White Student Project prize for his project, "Academy for the Study of Classical Antiquity," a hypothetical proposal set on the Italian Coast.
The Stanford White Awards for Excellence in Classical and New Traditional Design recognize achievement in individual projects in architecture, interiors, landscape, urbanism, and building craftsmanship & artisanship throughout New York, New Jersey, and Fairfield County, Connecticut. The awards program is named in honor of Stanford White (1853-1906), of the distinguished New York firm McKim, Mead & White, whose legacy of design excellence and creativity in architecture and the related arts continues to serve as a source of inspiration and delight. The 7th Annual Stanford White Awards will take place on Wednesday, December 5, 2018 at The Metropolitan Club of New York. For more information on the event, please click here.